How many times have you taken a bus tour of a big city? You see them all the time. In Washington, DC they have the orange and green trolley buses, in London it's the red double-deckers. Well, if you've done it, you probably know that while it's a good way to hit the big sights in one day, you don't necessarily get a very good sense of a place. To do that, walking is usually the preferred method. Next we go to New York to meet a man who's turned walking into an art form. Molly Murphy reports.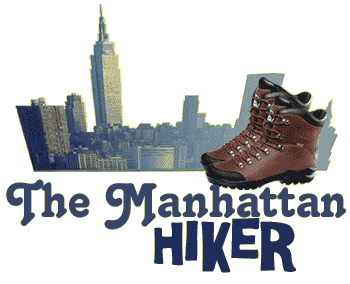 The Manhattan Hiker
by Molly Murphy
This is the T-Rex of urban landscapes. Can't you just smell that exhaust? Sense the tension? It's everywhere! Now, does this seem like the perfect place for a nice long walk?
Well it does to retired business executive Paul Grand who, since 1997, has been methodically walking, or, if you will, hiking Manhattan. The full 504.3 paved miles of it.
Paul: "I just crisscross streets, I open every door, peek into, walk into every alley..."
Since Paul retired 12 years ago at age 46, he's become an avid mountain climber, hiker and photographer. So avid that when he's not scaling the Alps or traipsing through Mexico or Morocco, he continues his pursuits right here at home in New York which, turns out, offers him some of the best vistas a photographer could hope for.
Paul: "I am surrounded by beauty. I need only open my eyes and it's there. It's all around me. And so I take that infusion of learning and I walk New York."
As he scans the skyline, Paul sees Tuscan towers, Moroccan turrets. He estimates he's covered 85 percent of the city so far. Through Soho, Chinatown, Little Italy, up along the Hudson, through Harlem, around every corner on the upper West Side, Paul has hiked decked out in his Gortex and fleece, with a backpack full of equipment.
Paul: "I'm carrying 35 pounds normally typically, three camera bodies, four lenses, a flash which I never use, filters, equipment, water bottles, all that kind of stuff."
Though he's spent most of his life here, he now sees the city through very different eyes.
Paul: "Oh, photography trains, educates, hones, opens up your eyes. You see things that other people miss out on."

Paul is very attuned to the nitty-gritty. He seeks the juice of the places he visits. And where better to find the juice in New York City than the meat-packing district, his favorite neighborhood and an eye-opener for me.
Molly: "Wow, these are real people with real streets with real garbage and real workers. What are those? Gizzards? Chicken livers? This is really gross."
As we stepped over a pile of bloodied chicken parts ground into a mud puddle, Paul's eyes roamed to a wall of meat hooks draped with marbled hunks of dripping beef. That's how I saw it anyway...
Paul: "Just shooting that, it's gorgeous. The detail is wonderful. The sculptularity of a side of beef in black and white detail is just so amazing. Oh, look at them hurl those sides of beef into that truck. This is it. This is fun. It's just hanging around and opening your eyes and picking up on what's happening around you that, yeah, it's cool, that we miss."
And that's Paul's philosophy in a nutshell. If you really want to experience a place, make sure you open up your eyes and pick up on what's happening around you.
Paul: "It's the art of stasis. It's the art of being as opposed to doing. If you're meandering very slowly without an agenda, you're available for happenstance and serendipity. And it's always there. There's always some neat person or interesting subject that, if you're rushing through life, you don't have the opportunity to pick up on because you're not aware of its existence."
Seems simple, but many of us become so destination focused we forget to enjoy the ride, or the walk, as the case may be.
In New York, I'm Molly Murphy for The Savvy Traveler.