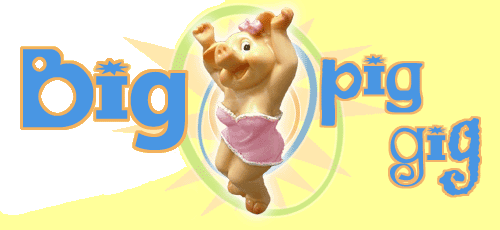 First it was Switzerland, then Chicago, both places with serious cow connections. But when fiberglass bovines started to appear on the sidewalks of New York this summer, they sparked flammability and copyright controversies. On the other hoof, for its sculptural fauna, Cincinnati has embraced an animal deeply rooted in the city's past. As Naomi Lewin of WGUC reports, if you visit Cincinnati this summer, think pink.
Big Pig Gig
by Naomi Lewin
Porkopolis is a nickname Cincinnati wears with pride. It was coined around 1835, when this was American's chief hog packing center, and herds of pigs traveled the streets. Thanks to the "Big Pig Gig", as the exhibit is known, this summer there are hundreds of pigs in Porkopolis again, but this time they're bolted down, on sidewalks and in parks. When I took to the streets with my Big Pig Gig map, I found that local artists had let their imaginations and palettes run hog wild. The sty's the limit for inventive ideas with punny piggy names. For instance, "Porkus Welby" is sponsored by a group of doctors. He wears a stethoscope and wings, maybe to diagnose swine flu. A liquor distributor sprang for "Sparkling Swine," who's covered snout to hoof in tiny mirrors.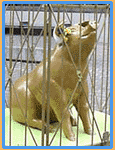 But the porcine piece de resistance is a three-pig arrangement behind the 1871 Tyler Davidson Fountain that dominates downtown Fountain Square. The "Styler Davidson Sowntain", as the parody is called, mimics the landmark next door right down to the dedication plaque, except that its wording, "Otay ethay eoplepay ofway Incinnaticay", is of course in Pig Latin.
Scott Hamons is one third of the team that worked on the "sowntain", adding all kinds of loving detail.
Scott: "We have all of the pork products on one side that's edible: hams, ribs, sausages, hot dogs, coneys, got to have the coneys in there."
Coneys, for the unenlightened, are hot dogs smothered in Cincinnati's finest cuisine, namely chili, plus cheese.
Scott: "And then on the other side you have any other kind of pork product that you use that's not edible: shoes, lard, candles, medicines, all kinds of goodies."
Non-edible pork products also loom large in Cincinnati's history. Once upon a time, a candle-maker named James Gamble got together with a businessman named William Proctor to start a soap-making outfit that you've probably heard of. Proctor & Gamble, by the way, is represented in the Big Pig Gig by "Hog Tide", spelled T-I-D-E.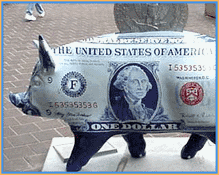 Even though I'm not a native, it's been hard not to get caught up in the enthusiasm over the Big Pig Gig. So not long ago, at high noon, I found myself participating in a rather unlikely event for an urban setting.
Doug: "Soouu-eeee!"
That's not me. It's Doug Taylor, who publishes The Downtowner, a local paper. Doug and I were two of the folks who agreed to make spectacles of ourselves in a so-called "celebrity" hog-calling contest in front of the downtown lunch crowd. When it was my turn, I told the assembled masses that I worked for WGUC, Cincinnati's classical music public radio station, and we took a more "classical" approach to calling hogs.
Naomi: "Soouu-eeee!"
As you can tell from the chuckling MC, I caught everyone a little off guard. My unorthodox style snagged first prize, including a swell plaque and some lovely parting gifts. Unfortunately, the real, live hog trotting around the square didn't respond to my performance, but then, she didn't care about anyone else's either.
There are no more hog calling contests on the horizon, but there will be other entertainment. The Cincinnati Art Museum is hosting the Big Pig Jazz Gigs, a series of free concerts every Sunday through the end of August. Meanwhile, the statuaries including "Hamingway", "Alan Greenspam", and "Six Degrees of Kevin Bacon" continues on display through late October around Porkopolis. You can find maps and more on the official website www.bigpiggig.com. But E.B. White's hogflesh expert Charlotte put it best on her website: "These guys are terrific radiant ... some pigs!" In Cincinnati, I'm Naomi Lewin for The Savvy Traveler.