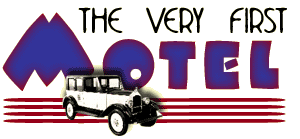 This summer, millions of Americans will stay in motels without giving a thought to where the idea came from. Rachel Anne Goodman took her own road trip to find the world's first motel.
The Very First Motel
by Rachel Anne Goodman
The motel is part our identity as car-driving Americans. We like to sleep near our cars. It's hardly surprising that the first motel was built in my home state of California, that monument to auto eroticism. Nowadays, we want our motels to be predictable, like the Motel 6 where I stayed en route to the first motel. It's got to have an ice machine, a mauve checkered bedspread, and of course, it's got to be cheap. These modern chain motels might be dull, but once upon a time motels promised the same adventure and romance as the open road.
In 1925, some one million people hit the California roads, seeking adventure in their new Model-T Fords. Mostly they stayed in squalid auto camps. Sensing an opportunity, L.A. architect Arthur Hienemen built the first motel, called the Milestone, in San Luis Obispo, halfway between San Francisco and L.A. He coined the term motel, meaning motor hotel, says current the Milestone's current owner Bob Davis.
Bob: "It was a trade name originally, like Kleenex. The word doesn't even appear in a dictionary until the fifties."
Davis also owns the swanky Apple Farm Inn next door. He closed the old Milestone in 1991 because it was too rundown. It still stands next to Highway 101, its windows boarded up, its cavernous dance hall gathering dust. Faded wallpaper speaks of more elegant times. Manager Dean Hutton shows me around.
Dean: "The bands would play in this area, and this was the dance floor here."
The motel's restaurant resembles a Spanish mission, but it was built for car travelers. For $1.25 a night, guests got a two-room bungalow with a kitchen and a private adjoining garage.
Dean: "All the units faced a central courtyard which housed the swimming pool. In fact, there are some pictures from the 50s with picnic tables and umbrellas, just loaded with people enjoying this setting. This was very much a busy social area."
I imagine guests from all walks of life, mingling by the pool over cocktails. The motel was promoted as a kind of melting pot, a place where people of all classes could meet, but it was a myth, says Curtis Marez. He's a professor of American studies at the University of California at Santa Cruz.
Curtis: "You didn't really get all classes of people traveling to motels. It was really largely middle class folks that could afford to travel in this manner. And everybody else either camped or simply didn't travel."

Even when they could afford it, Mexicans and other groups were often not admitted to motels because of segregation. The Milestone, with its separate servants quarters, was aiming for the upper tier of the leisure class. Magazine ads promised a real taste of California. "Skies are clear, the air tingles, and you never saw such blue ocean", reads the copy.
Curtis: "A lot of boosters started pushing the notion of California as a kind of pastoral heaven, a place where the oranges just fell off the trees without any of the difficult labor needed to pick them."
The West as Eden or the West as cowboy movie. Either way, says Professor Marez, the car still played the starring role.
Curtis: "There's this great photo I've seen of this woman who is riding her Model-T as if it is a horse. She's got a shotgun across her lap. That sort of indicates the myth of being out on the open road. It was like being a cowboy all over again."
And what better place to stable your new car than the Milestone motel? But the old dusty trail of Highway 101 is now a superhighway roaring a few feet away. Arthur Heineman had planned a chain of motels, strung like pearls from Seattle to L.A. He could have realized his dream if the depression hadn't come along. Owner, Bob Davis:
Bob: "His concept was fantastic. He was basically Holiday Inn 20 years before Holiday Inn."
You can catch a glimpse of the Milestone motel by Highway 101 just north of San Luis Obispo. The sign says "The First Motel in the World". I'm Rachel Anne Goodman for The Savvy Traveler.