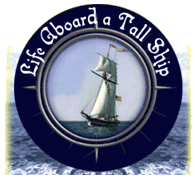 If you dream of romance on the high seas, swashbuckling pirates or just days of silent reflection between you and the ocean, then you've probably been following the Tall Ships on their journey to various ports around the globe. About 28,000 sailors from all over the world took part in the excitement. Among them was writer Todd Jarrell. He sent us this postcard to tell us about a particular aspect of life at sea.
Life Aboard a Tall Ship
by Todd Jarrell
One month at sea has seen our ship across the Atlantic, this voyage looping southward through the sub-tropic trade winds from Spain to Bermuda. We sail as part of the Tall Ships 2000 fleet on a five-month, 10,000-mile Atlantic Ocean circumnavigation. Scores of vessels crewed by sailors from thirty nations promise the largest fleets of tall ships in the history and the many millions attending port festivals guarantee one of the world's boldest millennium celebrations.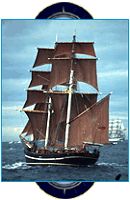 Much is absent here at sea: the mini-migrations of rush hour commutes; the mailbox's galvanized gullet of bills and instant rubbish; the daily digestion of shock via the media. Missing are the gas, grocery, dry cleaning, and bank errands. No one is put endlessly "on hold" here, and gone are the beeps, buzzers, bells and vibrating cellular homing devices that people wear willingly, and so cannot escape.
Life aboard our tall ship home has long since taken a somewhat linear form, what, with no side trips or distractions from whatever may--or may not--be happening on the ship. We sail together as a small floating community and, as the ship's engraved brass bell proclaims, "Where we go one, we go all" . . . all thirty-two of us.
In the compacted world of lengthy tall ship passages, three topics sometimes take on exaggerated importance. They are: getting sleep, not getting sleep, and food. The meals here on the Eye of the Wind are tasty and plentiful. Beyond yearning for things we simply don't have and can't get--which is only human--we are quite happy in this department.
Gill: "Who wants a rare one ... I have a rare one here now."
Sleep, however, is another topic entirely. We work the watch system--four hours on, eight hours off, around the clock--24/7. All personal business must fit in the hours off--letters, shower, study, mending, reading, meals, shipboard romance, and time to think (if that's important to you) . . . Then you sleep.
Our bunks are perpendicular to the keel, so heavy rolling seas puts one teeter tottering from the foot of the bunk to the head of the bunk, several times a minute, hour upon hour. Shown in fast-forward motion it would look like sleeping in one of those electric paint shakers.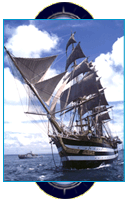 Persons averse to power tools, clattering pots and pans, high decibel camaraderie, radio squelch, animal noises, footsteps overhead, broad daylight and combustion engines while trying to sleep would do well to try elsewhere . . . were it only possible.
In the heat of the summer, we need air moving below decks to sleep. Bunk fans commit suicide daily under the strain, their demise normally accompanied by sounds equated with things horrible: a banshee awakening midway through a root canal, say. The bunk fan's importance is right up there with pace makers, dialysis or personal breathing equipment.
Nature regularly flaunts her flying fish, rainbows, whales, waterspouts and dolphins on the bow wave and no one wants to sleep through any of that. But eventually, one could just sleep through anything--and will--the cradling of the ship making up in deep sleep for what we lack in time to sleep.
Katie: "Good morning, Todd. It's time to wake up and it's nice so you may want to wear shorts and there's pancakes for breakfast so you might want to come while there still is some."
It's like having a maid, a meteorologist and your mom in to help start your day--only not so crowded.
But all this is near moot. Bermuda is just ahead and, as the ships engraved brass bell proclaims, "Where we go one, we go all." Once in Bermuda, maybe we'll all go . . . and get some sleep.