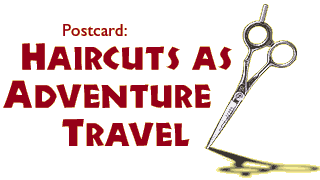 The first time with a new barber is always a bit nerve-wracking, but imagine the challenge if you don't even speak the same language. Our Vagabond Traveler and international bad-hair day expert, Doug Lansky, sent this postcard.
Haircuts as Adventure Travel
by Doug Lansky
Dear Rudy,
I never know quite what I'm getting myself into when I get my hair cut on the road. Sometimes literally "on the road," sitting on the curb holding a cracked mirror fragment with a guy chopping away behind me with a pair of scissors that wouldn't make a straight cut through a post-it note. I thought I had a pretty decent clip from a semi-blind man with a folding chair on the sidewalk in Beijing. But when he set up that double-blind mirror so I could see the back of my head, I noticed he had brought my hairline up even with the tops of my ears. When viewed from the rear, it looked as if my neck was about nine inches long and extended up to the top of my head.
I've found that most of these barbers subscribe to the haircutting theory that the more they take off, the better deal they're giving you. So, they never know quite when to stop. This "Chop till you drop" style was most noticeable in a sixty-year old Brazilian barber I nicknamed "Edward Scissor-hands", who clipped my hair while suffering from muscle spasms. I had a ponytail when I sat down for a trim and by the time I got out of his chair, I looked like a Tibetan monk in training. Now that my hair is relatively short, I face another problem with barbers: the trim. I always make the same mistake when indicating the amount I want trimmed by showing the barber roughly a quarter inch of space between my thumb and index finger. I'm trying to convey that the quarter inch is the amount I wish to have taken off. Invariably, the barbers interpret this quarter inch as the amount of hair I wish to remain on my head, and after about thirty seconds of free-hand snipping, the damage is done.
But the most interesting part of the haircut often has nothing to do with the hair on your head. In Turkey, any hair located above the chest is fair game. Before I knew what was happening, I had my eyebrows trimmed and my nostrils de-haired while the barbers assistant rolled two pieces of thread back and forth on my upper cheekbone, then yanked them, removing an entire patch of micro blond hairs I didn't even know I had. Although, after this procedure, my hair grew back darker and more pronounced and I'm now forced to shave higher on my cheek. In Vietnam, one barber volunteered to clean my ears. Why not? Using a head mounted camping flashlight and, I pretty sure about this, shish kabob skewers, he began excavating the earwax inside my ear. The scrapping sounded like an amplified version of what the dentist does to your teeth with his metal pick: unsettling but not painful.
At a time when nearly any activity, including getting momentarily disoriented at a cruise ship buffet table, counts as adventure travel, it's nice to know you can still find an authentic adventure in a barber shop in nearly every developing country. And Rudy, you shouldn't have to pay more than two dollars for the experience.