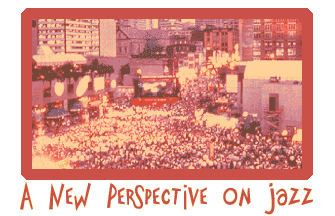 At this time of year, music festivals are taking place all over North America. But often, they're either expensive or in some remote location outside of town. That's not the case with the Montreal International Jazz Festival. Each July, music fans from all over the world fill Montreal's downtown streets. They come for the hundreds of free shows but also for the ambience of an historic French city. Karen Kelly has this report.
A New Perspective on Jazz
by Karen Kelly
This week, St. Catherine's street in Montreal becomes an outdoor concert hall.
Instead of cars and taxis, there's a stage where a jazz quartet is playing for the crowd. The fans fill the staircases and lean over the long balconies that hang from nearby hotels. Montreal is normally home to about three million people, but during the jazz fest, more than a million fans pack the downtown hotels. They mingle with jugglers and vendors selling Cajun food. The luckiest find seats at one of the sidewalk cafes. And the fast pace of this cosmopolitan city slows down. That's something the jazz fans appreciate.
Jazz fan: "I guess the variety, the freedom to roam, just that 'feel free' feeling to be outside. People just do their own thing. Yeah, feel free."
Many fans are international, especially from the United States. With the American dollar worth about a $1.40 Canadian, it's incredibly cheap. Use your ATM or credit card, which'll give you the most favorable rate. Still, Americans like Eric from New York City insist the main draw is the music.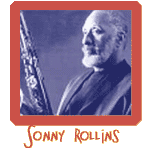 Eric: "There's no place like this. It's just amazing, you walk around, you have all this jazz in the background. In New York, you can get any kind of music but for this one specific genre, coming here is much better than staying in New York City."
There are bands playing every day from noon to midnight. But figuring out who's playing when is a bit of a challenge. The festival program is pretty thick and it lists hundreds of shows in both English and French. While most shows are free, the program mixes them in with the $30 to $50 indoor shows. So, we give up on the program and decide to just wander. It's not long before we find music.
An African drumming group has drawn a large crowd into the street. It's one of the many world music groups that are also part of the festival. There are bands from places like Africa, Costa Rica, and Brazil. Musician Steve Amiro has been working in the festival for thirteen of the twenty years it's been held. He says including other types of music allows it to offer more shows and attract more people.
Steve: "The free stuff, the street stuff, is more world beat, ethnic music. This year there's a lot of ska bands. That seems to work better for the kind of party vibe, the salsa bands and whatnot. If you're looking for a lot of jazz, jazz, jazz, it's more indoors and those are the ticket prices."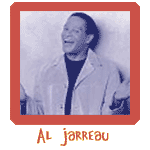 The indoor venues are also where you'll find the big name performers. This year, there are musicians like Branford Marsalis, sax player Sonny Rollins, and singers Al Jarreau and Shirley Horn. A lot of the indoor shows feature modern jazz, stuff that doesn't sound like the old standards, such as Al Dimeola and the New World Symphonia.
We left with a new perspective on jazz. And, a pretty serious craving for dessert. That's when you truly appreciate Montreal. It's 11:30 at night and we find a vendor selling fresh crepes outside the theater.
Street vendor: "We have salted crepes, ham and cheese, butter and sugar, strawberry sauce, banana and chocolate, and chestnut cream."
You come to a festival like this for the music ... and it was excellent. But the crepes were outstanding. In Montreal, I'm Karen Kelly for The Savvy Traveler.