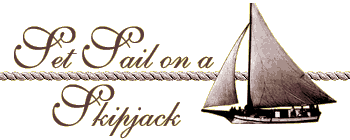 Summer visitors to the nation's capitol may want to take a day trip to the eastern shore of Maryland to explore the rich history of the Chesapeake Bay. Wooden sailboats called Skipjacks were once a common sight on its waters, harvesting oysters with iron dredges. But nowadays, they've all but disappeared. Lex Gillespie set sail aboard one of the Chesapeake's last remaining Skipjacks, the H.M. Krentz, to see what it's like.
Set Sail on a Skipjack
by Lex Gillespie
Bluming: "Are we ready, folks? Now we have to heave-ho. I'll show you how it's done."
On a hot sunny afternoon, Francine Bluming, the first mate of the skipjack H.M. Krentz, hoists the sails with help from two passengers.
Bluming: "Heave-ho. Heave-ho. Heave-ho. You did it. Alright."
Its sails filling with a steady breeze, the H.M. Krentz slices across the murky surface of the Choptank River from its port on Tilghman Island, on Maryland's Eastern Shore. As ospreys and a bald eagle soar overhead, the vessel's long bowsprit points the way to open waters.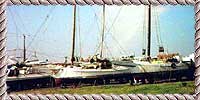 The H.M. Krentz is a typical skipjack, similar to hundreds of other sleek white boats that once plied the Chesapeake. Legend has it they were called skipjacks because their trim design enabled them to skip quickly across the water from one oyster bed to the next. The Krentz is a 45-year-old vessel that's made entirely of wood, with two triangular sails and a flat bottom, which is the trademark of the skipjack's design. At its helm is Ed Farley, its burly captain, who's dressed in jeans, sneakers, a T-shirt and Raybans. Cap'n Ed, as everybody calls him, has been sailing skipjacks for almost 30 years.
Farley: "The skipjacks evolved in the 1880s during the peak of the oyster industry. And a lot of it simply was a huge demand for oysters by a growing population. And they could build a skipjack for oh, probably half the cost of a round-bottom sloop, or a schooner rig or bugeye rig, which were the other types of vessels that were used for dredging oysters."
Some 800 skipjacks were built between 1883 and 1920. Yet today, only a dozen still work on the Chesapeake Bay. The H.M. Krentz is one of them. This afternoon's passengers are day-trippers from Baltimore on a two-hour tour which Cap'n Ed offers in the spring and summer. But during oyster season, fall through March, the H.M. Krentz becomes a working skipjack, which harvests oysters the traditional way.
Farley: "Well, we're right over the bed. So let's get the dredge out. It basically, it looks like a garden rake with a frame and a net hanging from that frame. And it's going to cultivate across the bottom and hopefully catch some oysters. Here goes!"
The iron dredge disappears beneath the skipjack's wake and Cap'n Ed begins the arduous task of pulling it in by hand.
Farley: "You're going to get some heavy breathing on that microphone in a minute."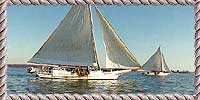 In about a minute, Cap'n Ed dumps about four dozen oysters on the skipjack's sunny deck, a good catch. The Chesapeake Bay was once teeming with oyster beds like this one. But in the early 1980s, a deadly parasite called MSX nearly wiped them out, along with all the skipjacks, and it's only been in recent years that harvests are up.
Bluming: "Coming about. Watch your heads, folks."
First mate Francine Bluming alerts passengers to the massive swinging boom of the boat's mainsail as she points the skipjack towards the shore of Tilghman Island. It's a course Cap'n Ed knows well. He began as a deckhand on a skipjack in 1972, and he's spent many a freezing winter's morning on the bay. He quickly dispels any romantic notions of an oysterman's life. For him, it's a lot of hard work.
Farley: "But there's nothing wrong with hard work, there's a reward to hard work, which is at the end of that voyage, or at the end of a long day of dredging oysters and exhausting yourself culling through ten tons of shells and stones, that at the end of the day, there's a pile and there's a paycheck. And you feel good about yourself."
With this afternoon's voyage nearing its end, the sails are lowered and the H.M. Krentz returns to its berth on Tilghman Island. For a modest fee of $30, passengers can re-live the days when skipjacks darted across the Chesapeake Bay pulling oysters from the deep.
On the H.M. Krentz, I'm Lex Gillespie for The Savvy Traveler.