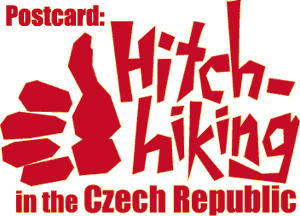 Hitchhiking through a foreign country may not be the fastest way to travel, but it does sometimes allow us a candid glimpse inside another culture. The Savvy Traveler's Scott Rosenberg sends us a postcard from his memorable, but not always comfortable, journey through Czechoslovakia.
Hitchhiking in the Czech Republic
by Scott Rosenberg
Dear Rudy,
How I wound up spending the night underneath a house with the spiders on wet dirt is a separate story. It was unfortunately typical of what my stay in the Czech Republic was like. What my day was to hold, I never could have guessed.
I crawled out from the foundation of the house while it was still dark. I brushed myself off and surveyed the landscape. Around me, purple and gray hills rose to meet the stony Czech town of Tabor.
I made my way up to Tabor and found a place to buy some food for the day, then I set out for the north end of town, in the direction of Berlin via Prague. My only goal was to get the hell out of the Czech Republic.
On the side of the road at daybreak, surly, tired, and freezing cold, I stuck out my thumb and waited. After a couple of numbing hours I finally landed a ride from a silent trucker to the very southern outskirts of the Prague subway line. I rode it north through the city planning to find an obvious highway to hitchhike along. I was lost before I even got out of the station.
Plan B. Ask a friendly looking stranger.
Though Petr barely spoke English, he far surpassed the "friendly" requirement. Petr lead me onto a northbound bus. Then he led me off that bus. Then down the road, then onto the next bus, then through a couple towns, then off that bus, then ten more minutes down the road by foot.
Petr was also hitchhiking, so I offered him the primo hitchhiking spot and walked down the road a bit to wait. Have I mentioned how cold it was? After a long while Petr came over and mumbled something about his cabin, though I had no idea what he was talking about. At some point he gave me a hearty wave and started to walk back towards Prague. My heart sank, and I waited some more.
I eventually got about six different rides that took me a whopping total of 15 miles. As the sun was setting, I was dropped shivering on the side of a nondescript highway several hours from nowhere.
Tears streamed down my face and froze as I choked on hard cheese and self-pity. Just then, someone seemed to be slowing down. Not just anyone, but a smiling Petr. "Come, come," he said, and I hopped, laughing, into his heated car.
Petr invited me to stay the night at his "cabin" before I even had a chance to ask. It was no cabin at all, but a lodge built in the stony ruins of a twelfth century castle at the top of a mountain overlooking both the Polish and German borders in North Czech. Tolenstein.
I immediately threw on all the warm clothes I had and ran up to the very top of the mountain for a look at the view. Wide open space as far as the eye could see. Five minutes up there and it began to snow, the first snow of winter. A silence fell across the surrounding mountains. In that moment, all the exhaustion, loneliness, and annoyance from the day evaporated. It was the purest, sweetest snow of my life.
That postcard was sent by Scott Rosenberg, a musician and editor of Modo in Chicago.