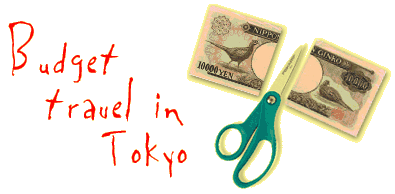 Japan is the most expensive country in the world. It's capital, Tokyo, the most expensive city. The cost of getting around, or having a decent meal is a challenge for even the Savviest of Travelers. But producer Sharon Moshave has discovered that with a little creativity, it is possible to hold onto your yen. She sent this story from Japan.
Budget Travel in Tokyo
by Sharon Moshavi
I confess I am a cheapskate. Spending money pains me, I feel like a part of my soul is being ripped away. So imagine my trepidation when I found myself, through no fault of my own, may I add, in Tokyo. My heart raced as I pictured what it would be like: $10 coffees the size of thimbles, $500 taxi rides, sushi dinners as overpriced as an Internet stock, a night in a hotel more expensive than a down payment on a house. But bit by bit, I realized something extraordinary: Tokyo can be cheap, if you know what you're doing. Luckily, you've got me.
First head for the vending machines. You can't miss them; they're everywhere, more per person than any country in the world. That means you can forget about that $10 cup of coffee. Put in 120 yen, or just over a buck, and out comes a can of piping hot Java.
It tastes pretty good too.
Now you can move onto that other mainstay of Japanese life, the convenience store. Their shiny, happy signs accost you at nearly every street corner: the usual suspects like Circle K and Seven-Eleven, plus a few creatively named ones, like Just Spot. The conbeni, as they're called, are a bit different than their American counterparts. Here, you'll find shelves of meals made fresh daily, everything from Japanese rice balls to octopus.
B.J., an American traveler in Tokyo, says it's possible to save hundreds of dollars a week if you stick to a strict convenience store diet, although, of course, you end up paying another kind of price.
B.J.: "Your intestines are going to be doing a dance as most of the things in them are chemically enhanced and every other damn thing."

There's even a way to eat the ultimate Japanese delicacy, sushi, on the cheap. Something called Keiten Sushi. It's basically a revolving sushi bar. You sit at a bar and a conveyor belt circles around bringing small plates of sushi and you just pick off what you want. It's nice too, in a place where few people speak English, you don't have to talk to anybody, you don't have to figure out how to order. It's all sitting there right in front of you.
Now, you probably want to do some sightseeing, something cultural. Sure, you could go to a museum or a concert maybe, but that would expensive, and let's face it, dull. One of the best places to catch a glimpse of Japanese life and culture, for free, is the department store. Yes, the department store.
My personal favorite is the venerable Mitsukoshi department store in Tokyo's Nihombashi neighborhood. It's over a hundred years old, hushed and refined with a soaring atrium and, on many weekends, free concerts like this piano recital. Upstairs, you can check out free art exhibitions. Downstairs is the food plaza, where free samples await you for a midday snack.
The best entertainment though, is watching the customers. The Japanese women dress like they're ready for tea with the queen. No sweats, no Gap khakis in sight. Instead, it's perfect pastel suits, dainty designer handbags, coifed hair, feminine heels, and to remind you you're in Japan and not at a Jackie Kennedy look-alike contest, a few exquisite silk kimonos.
Of course, you don't want to actually shop at the department stores. Instead, head straight for the 100-Yen Plaza, a chain of discount shops mushrooming throughout Japan. When you run out of toothpaste, need a new pair of underwear, or are looking for that perfect souvenir, like a set of Hello Kitty chopsticks, this is the place to come.
Every single item is less than a buck. And they have everything, everything you can possibly think of. They've got shampoo. They've got nail polish, batteries, umbrellas, Mickey Mouse watches, everything you could possibly think of and few things you wouldn't think of like a fishing net and a mask of Ronald Reagan. And everything is less than a buck, every single item.
You're probably worn out by now. Where do you go? Hotels are unbelievably overpriced; even youth hostels in Japan are no bargain. One option you may want to consider is what the Japanese call a love hotel.
Bob: "The hotel was quite nice, it was just a weird place to take your parents, I guess."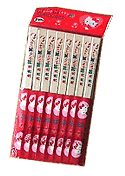 Yes, says Bob Garlick, they're exactly what you think they're for, Normally they charge by the hour but an overnight stay can be quite reasonable. He and his parents saved over a $100 staying in one. Like many love hotels, it had a theme, a medieval motif in this case. Garlick was a bit put off by the tacky coat of arms on the walls, but overall, he's a big fan of love hotels.
Bob: "You do get a great bathroom in a love hotel. If you do go to a business hotel, you get this one mold, the Japanese one mold thing. Everything's made out of plastic and the bath and the shower is the size of a telephone booth. In a love hotel, you can say 'I want a Jacuzzi room', and 60 percent of the space of the room is for the bathroom. You get a big bath and it's fabulous. So, if you're into having a nice luxurious bath, definitely, that's the way to go. It's cost effective that way."
If you're really looking for cheap, come to this one I'm staying in, the Hotel Silk. Despite its luxurious name, it's pretty basic, but it is only about $55 for the night and it's in a hip Tokyo neighborhood. It also comes with some nice amenities like a hot pot of tea and a free porn channel.
Not spending a fortune in Tokyo definitely requires ingenuity, especially when it comes to transportation. Local subways and trains can cost from $1.50 to more than 10 bucks. It adds up quickly. My solution is to walk a lot, but some less scrupulous people have other ideas, says Mike Kleindl, editor of TokyoQ, an online guide to the city.
Mike: "People don't expect you to lie. They trust you to tell the truth, they think that everyone follows the law, and so if you're just a bold-faced liar, you can get away with all kinds of things."
For instance, says Kleindl, buying yourself a half-price child's train ticket or using an expired pass. Of course, this does raise serious ethical questions. Even for a confessed cheapskate like myself.
This is Sharon Moshavi in Tokyo for The Savvy Traveler.