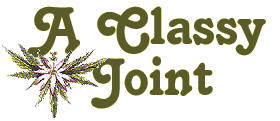 In Santa Cruz, California, a new kind of travel experience just opened up for those with open minds. It's a bed, bud, and breakfast where it is legal to smoke marijuana, if you have a doctor's note. Rachel Anne Goodman takes us on a tour of the Compassion Flower Inn.
A Classy Joint: The Compassion Flower Inn
By Rachel Goodman
In a cozy courtyard, bordered by vine-covered trellises, two guests of The Compassion Flower Inn soak up the early morning sunshine. Bill Panzer and his wife Christina Clemente came to Santa Cruz for more than the beach. They came so Christina can use her epilepsy medicine, which happens to be cannabis Sativa.
Christina: "One of the interesting things is yesterday I just had a seizure in the car when we pulled up in the parking lot. When we got here I was totally spaced out and Andrea was really great, she helped us get comfortable. It was just what I needed."
Andrea, one of the owners, helped her out of the car and into the courtyard where she was able to smoke some marijuana to control the nausea that often follows such episodes.
Christina: "Sometimes when I do have seizures I get violently sick for about four hours. This is the second time I had it right there after the seizure and it's the second time I haven't gotten sick."
Christina's husband Bill is an attorney. He also happens to be the co-author of California's 1996 law, which legalized medical marijuana.
Bill: "You run into a criminal justice system that treats people as
criminals, and my god, all they're trying to do is feel better. No
one's getting hurt. You know the drug laws in this country are
insane."

In April of this year, the Santa Cruz city council passed its own ordinance legalizing medical marijuana. Assured they wouldn't be bothered by local police, Andrea and Maria Tischler opened The Compassion Flower Inn that week. It took two years of painstaking work to restore the nineteenth century mansion to its original splendor. Andrea's voice sounds like a man's, because she once was one. She now takes hormones and lives the life of a woman.
Andrea: "This is the Cannabliss room that we're going into now. It's a wheelchair-accessible room."
The Inn is decorated in an opulent, but tasteful period style: clawfoot bathtubs, antique beds, plush carpeting. But some of the decor is modern.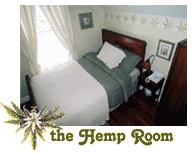 Andrea: "At the top of the stairs is the hemp room. Maria cut the stencils out for the hemp leaves that are painted on the wall."
Maria: "I spent about a year here doing the walls and everything else, and I'm happy with it."
The silk drapes, bed spreads and pillowcases are all made from hemp fibers. Guests are given complimentary soaps made from hemp. And for breakfast?
Andrea: "Everybody has just raved over the hemp seed pancakes."
Served with fruit from the local organic market on, what else? Pot-leaf pottery. The rules here are fairly strict. Guests planning to toke up must have a note from their doctor, and supply their own cannabis, which is legal to buy as medicine in California. Pot smoking is confined to the courtyard and is for medical users only. Maria Tischler:
Maria: "People have the image of marijuana smoking goes with the hippie bus and the long hair and the grunge look. And this is not what we are about."
That's what the Tischlers tried to explain to the local bed and breakfast association, whose members gave them a prickly reception.
Andrea: "One of the bed and breakfast owners was particularly adamant. She said, 'We don't want any of that kind of stuff at our bed and breakfast inn. We don't think that's right. We are high class.' And I said to her, we're high class too, but we put the high in high class."
Maria: "I said to her too, you know, look, even high class people might get cancer and might need to use marijuana. Illnesses run through the whole population."
Santa Cruz has always been a little different, from its socialist mayor to its nuclear free zone. Now film crews from France, Japan, and Canada have come here to see people smoking pot in public. Andrea can't understand all the fuss.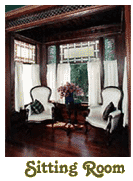 Andrea: "It's not just medical patients that come here. We have a lot of people that come here that are healthy, that like the feeling of a Victorian inn."
Bill: "You know people aren't going to come here just to smoke marijuana. They can do that anywhere. It's an inn that's sensitive to people's needs."
The Compassion Flower Inn is open to all types of visitors. For Christina Clemente, it's a place where she's treated like a guest, not a criminal.
Christina: "I think Santa Cruz has always been an open environment. I think it's a lot more accepting in the state of California, but Santa Cruz definitely."
In Santa Cruz, I'm Rachel Anne Goodman, for The Savvy Traveler.