When you travel to China you have to see the Great Wall. Then, of course, you must visit the Temple of Heaven and the Summer Palace. But our contributor Marty Goldensohn stumbled upon a lesser-known attraction. It's Shaoshan, the birthplace of Chairman Mao, and it's about 600 miles southeast of Shanghai. As Marty found out, Shaoshan offers history . . . and plenty of kitsch, too.
The Birthplace of a Leader
by Marty Goldensohn
On a major holiday, like National Day, the anniversary of the Chinese revolution, this rural village in Hunan Province will still attract 10,000 pilgrims to stand beneath this 30-foot statue of Mao next to the bandstand, to walk through the farmhouse where Mao Tse Tung was born, and to buy a Mao statuette.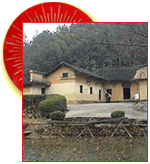 But this isn't the Mecca it used to be. Before the excesses of Mao's Cultural Revolution, three million Chinese would come here each year. Now that most Chinese are ambivalent about Mao, it's down to about one million a year. But Shaoshan is worth a look if you're at all curious about a man who changed history, and what his kitchen looked like.
Tour guide: "This is maybe for ventilation, yeah, maybe ventilation. Natural air-conditioning."
The biggest surprise here is the size and beauty of Mao's birthplace. A sunny, yellow mudbrick house, it has 13 rooms, a thatched roof. The house is nestled on a wooded hillside above some lush rice paddies, a small pond. It looks a lot like Tuscany.
Mao's father, it turns out, was what's called a rich peasant; managed to buy his land and hire the neighbors to tend the rice fields. When the Chinese tour guide makes a point of how Mao himself carried the firewood, you might overhear some skepticism from a western tourist.
British Tourist: "People of means like this would not have carried the firewood, they would have hired people to do that."
The highlight for many visitors is the bedroom containing the picture of Mao's mother. The guide translates the plaque next to the photo.
Tour Guide: "Mr. Mao Tse Tung, in 1893, was born in this room, maybe on this bed, by this woman. Yes, the bed is original."
The bed is original and the kitchen too, but much of the house isn't having burned down in 1929. But, it has been painstakingly restored. When Mao visited, he said it looked unchanged, according to our guide.
Mao only came back to the town of his birth three times, in 1925, 1959 and 1966. So in this respect, Shaoshan has the same relationship to Mao as Hoboken, New Jersey has to Frank Sinatra. It claims him. But his heart was not there.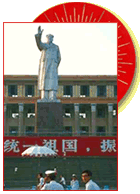 In the gift shop, where a video about Shaoshan plays continuously, it is hard to decide among the Mao-morabilia: the Mao triptychs, the key chains, the busts, the statuettes.
British Tourist: "I like the plaque, certainly..."
I don't now how anyone could go for a gold plaque over a Mao yo-yo, which lights up and has a Donald Duck-looking character drawn on it.
Aside from Mao's birthplace you can visit the Museum of Comrade Mao in Shaoshan, where you can get a sense of Mao's triumphs. You can also generate a computerized picture of yourself with Mao, even lighting his cigarette. Mao has become history and kitsch all at once.
Does Shaoshan get most favored tourist status from The Savvy Traveler? Well, I would not go thousand of miles out of my way to see Shaoshan. But, if you are in Hunan Province, say, to do business with the five and a half million people in its capital, Changsha, or to see the embroidery museum there, or the 2,000 year old mummified women, then a side trip to Mao's birthplace, just two hours away, is a very fine idea.
And Americans are certainly welcome, says Shao Yu Chung, the director of tourism for the whole region.
Yu Chung: "Politically speaking, some disagreements between the two governments, this is another cup of tea. This is something different."
Back from Mao's hometown, Shaoshan in Hunan province, I'm Marty Goldensohn for The Savvy Traveler.
Savvy Resources for Visiting Mao's Ancestral Home: