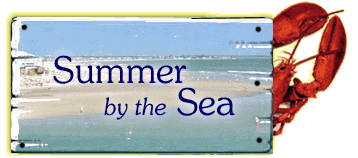 We stop in the seaside village of Oqunquit, Maine, a place with more hotel rooms than registered voters. Around this time of the year Oqunguit gets the summer tourist invasion. So how do the locals feel about outsiders taking over their town for a few short months each year? The Savvy Travelers Keith Shorthall checks it out.
Summer by the Sea
by Keith Shortall
David Harvey of Sarasota Florida say's he's been coming to Ogunquit for years, and looks forward to the day when he can share the experience with his grandchildren.
Harvey: "Well it sort of captures the past, I think, and the flavor. It has not been spoiled, which many, many resort areas have been. And, this is pretty much what it was like when I was a kid when I came up here."
But unlike the tourists of a hundred years ago, who arrived to the area by train, the Harveys and almost all the other visitors who come to Ogunquit arrive by car.
Keith: "North Carolina, Michigan, Quebec, Massachusetts. . ."
The cars are coming and going from the a popular spot called Perkins cove, where seaside shops and restaurants share space with working lobstermen and deep sea fishing charter boats. To get to Perkins cove, you have to drive by the house Charles Littlefield Seaman's grandfather built around the turn of the century.
Charles: "If you're a native here you can't get a damn thing. It's all the carpetbaggers coming in. They do anything they want."
Seaman is a descendant of the Littlefield family, which has roots in Ogunquit dating back to the 1600's. From his front porch Seaman points to several old barns across the street that now house shops and galleries.
Charles: "My grandfather's sister built this place in 1912, that's Aunt Alice. That's my great-grandfather's barn right there. The main part of the building, that was his barn. He owned everything here."

Keith: "And now it has 50 percent off sale signs in the window."

Charles: "Yeah. Oh yeah"

Keith: "What is that? A T-shirt shop now?"

Charles: "Yeah mostly, I think. I really don't know"
A mason by trade, Seaman says he doesn't take issue with the tourism dependent businesses that now surround his home:
Charles: "No, not really. I mean these people are here to make money, and I don't begrudge anybody making money, I love to see it. It just gets too crowded. I go to the mail at 9 o'clock in the morning and I come home and I don't leave this place. You just can't get out of here."
Some other locals are more reluctant to complain aloud about the tourist onslaught. One lobsterman, who refused to be interviewed, grumbled that trying to get around town in Ogunquit during the summer is, to put it euphemistically, a pain in the behind. Even those who fully support the tourism industry acknowledge that traffic congestion can be a major frustration. After all, the town is only about four square miles in size and its population explodes from only about a thousand in the winter.
Elinor: "On any given day during the months of July and August the population swells to about 35,000. Ah, on holiday weekends such as the fourth of July weekend we have about 45,000 people."
Elinor Vadnais, executive director of the Ogunquit Chamber of Commerce, says that based on all indictors, this summer well prove to be a good one for area businesses.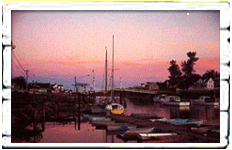 Elinor: "Well, we've been talking to our members and basically they are doing a lot better at this time of year than they were last year."
To gear up for the summer season, businesses like the Lobster Shack restaurant start preparations around the end of March, with some basic maintenance. By the first week of April, owner Jason Evans says he's put on a few fresh coats of paint, been in touch with his vendors, and is hopefully ready to open the doors by tax day. The major problem this year, says Evans, is the labor shortage:
Jason: "Help has been an incredible problem. In fact it's been the worst this year than I've ever seen it."
That means Evans himself will crack open the lobster shells to collect meat for stew and lobster rolls while his father John Evans, a retired school teacher, mans a broom.
Jason: "Kids, you used to be able to hire them. They'd be coming in droves for the summer season. But now, they're just not available."

Keith: "So if you want the floor swept?"

Jason: "You do it yourself. But it's a long day. I'm here 6:30 in the morning to 9:30 at night, seven days a week."
But the work can pay off. The Lobster Shack has only 12 tables, but on a busy day can handle as many as 300 customers. The major summer tourist season runs from Memorial Day to Labor Day, but the Evans, and many of their colleagues in Ogunquit, will keep their doors open until Columbus Day in October.
For The Savvy Traveler, this is Keith Shortall in Ogunquit, Maine.
Savvy Resources Resources for the Maine Coast: