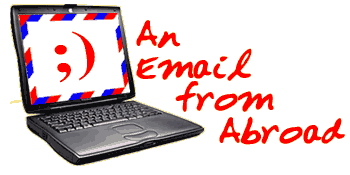 In February, Anne-Marie Ruff and her husband packed up their life in Los Angeles and bought one way tickets to Thailand. They moved to the island of Koh Samui, where they have spent nearly all their holidays in the last ten years. They discovered that in the two years since they had last visited, paradise had been wired. She tells us how the proliferation of the email shop is changing the nature of travel.
An Email from Abroad
by Anne-Marie Ruff
When we were last in Koh Samui, we heard from travelers that there was a shop where you could check your email, though we never saw it. Now there are 137 email shops. Most of them are storefront travel agencies that have connected their existing computers to the Internet. So, you can get email along with elephant treks and tickets to the full moon party on the next island. There is also an email shop tucked into a beauty salon, the airport gate and a beer bar, in case you need a lager when you log on.
Our favorite email shop offers a great view of the ocean. Tonight, pink thunderheads are towering on the horizon over the ocean, but the half dozen travelers here are oblivious to the sunset. They are glued to computer screens, checking their email or searching the Internet. Becky from England had gotten some email.
Becky: "A few jokes, a few letters..."
Becky has been on the road for six-months, alone. The very fact that she is so blase about hearing from home is testament to how easy it has become to stay in touch, maybe even too easy. Thomas is an American taking a break from his job in Korea.
Thomas: "I pretty much told everyone I'm going on holiday and I'm not really interested in communicating with you."
But he was interested in Thai license plates and wondered if anyone from the island was selling them on the Ebay auction web site.
Thomas: "I have a friend who's really crazy about collecting license plates from around the world and if it isn't on Ebay, it probably doesn't exist. I was gonna pick him up a few while I was here."
I am thrilled about getting email. Today there is a note from my sister with my nieces' sizes so I can buy them clothes that fit, for once. My brother has forwarded an article from Science magazine about rice and The Savvy Traveler has sent a message telling me to go ahead with this story. But email is more than just amusing; it has made our dream possible. I can live here and continue to work. And the stiff competition between email shops means prices are low: two baht a minute, or just over three dollars an hour. It's not this cheap everywhere. In the African country of Malawi, for example, it costs $18 an hour. I know this because Paul, who runs a lodge in Malawi, is in the Internet shop every day.
Paul: "It's rainy season in Africa and we've got a baby so it's a good time to be away. So I'm just running my business. I've got managers that run the business but I stay in contact with them every day and they tell me how many people are staying, whether they've got any problems and I send them back emails and they get things done."
Travelers who have only a short time in Koh Samui find Paul's daily marathon in front of the computer appalling, but he thinks it's great.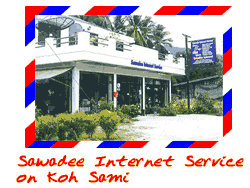 Paul: "Before, you always had to go home and find a job. You always had to go back, you know, and start your work again. Whereas now I can work and travel, which is the two things I enjoy doing."
Email not only makes business possible; it can be a lifesaver. You can write home for extra money or respond quickly to family emergencies. But it has also changed the very fabric of the backpacker culture. Jan from Melbourne says email has made travelers less social.
Jan: "I traveled at one point for about four years on and off and you got a lot of information by talking."
Much of the talking that used to happen in the cheap cafes of backpacker ghettoes has been replaced by the tapping of grimy keyboards.
Jan: "It's just a sign of the times."
But Paul, who has been in Koh Samui three months, says the wired road is not all bad.
Paul: "There are a number of times when you have been travelling for too long and the only thing you can talk about is what the beach was like, whereas now you can say you did you know that so and so happened in England yesterday. So, it actually makes staying in places like this better because you know what's going on and you still feel like you're part of the bigger world, but you're in the best place to do it."
If the nature of on-the-road relationships has changed, so has the nature of relationships between travelers and people in other countries. Miko was one of the few Thai people in the email shop. She had received a sweet message from her love interest who had just returned to Switzerland from his holiday here. She asked me to transcribe her broken English into a passable written reply telling him she missed him. Email is speeding up all kinds of international affairs. But Christina from San Francisco thinks such speed can undermine the romance of being halfway across the world.
Christina: "When you email somebody all the time, chit chatting, it takes the mystery out of 'Oh my God, they 're in Thailand' or 'They're in the Philippines' or wherever."
When we came here, we also worried that the ease of email would make this place less exotic. But you only have to walk outside the email shop to see that isn't true. Just down the street hundreds of people have gathered in the dark at the temple to see the illuminated performance of the traveling shadow puppet troupe. I'll have to tell my 96-year-old neighbor in Los Angeles about it. I'll send her a postcard. She doesn't have email.
Savvy Resources for E-mail Shops:
You know it's not just email shops that are taking off. The technology for sending emails during airline flights seems to be getting more sophisticated. And many airports now have what are called, Laptop Lanes: tiny offices where you can plug in, 38 cents per minute. You don't even have to have a laptop, desktops are there for you if you need them. Want more options for zapping your thoughts out into the cyber-world? Well, AT&T's new ePlane service will allow you and your laptop to surf the web and send email at 40,000 feet. It's scheduled to begin on domestic airlines later this year. Need more? According to a recent National Geographic Traveler report, a number of hotels are now offering pool side laptop rentals. Others, such as Hampton Inn and Holiday Inn Express, are installing flat-screen computers in their rooms. And at a place like the MGM Grand in Las Vegas, you can send email or surf the net while running on a treadmill or stationary bike! No sweat!