Ever been in an awkward social situation in a foreign country? Scott Rosenberg was traveling around Germany when he met Antoine, who dragged him to her sister's wedding the next day. When they arrived at Antoine's family home, he was handed ill-fitting slacks and a traditional Bayrisher shirt. Scott's postcard tells the rest.
Letting Go
by Scott Rosenberg
Dear Rudy,
I arrived in Cologne in the evening. I didn't know where to go, but I climbed on the U-ban and crossed my fingers. In pidgin Deutsche, I asked the woman next to me where we were headed and shortly we were engaged in English conversation.
Her name was Antonie and we made fast friends, connecting over a meal that night. She was a nursing student and had just recently moved to Cologne for school.
We hung out the next day and were lamenting the prospect of her having to go home for the weekend, down south. Her sister was getting married. After a brief phone call, I was warmly invited to the wedding.
Next thing I knew, I was hauling-ass down the famed Autobahn behind the wheel of a high-performance German speed machine, praying for dear life.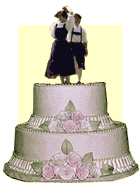 We arrived late and it seemed like just as my head hit the pillow I was woken up. I was handed ill-fitting slacks, a jacket, and a traditional Bayrisher shirt. I looked like a walking mockery of the 19th century.
Before the madness of the wedding started, we headed to the couples' house and ate a traditional "morning of the wedding" meal of boiled white sausage. It wasn't until I was given a seat in the judge's private office to witness the ceremony that I started to sweat. I kept imagining the newlyweds looking through their pictures, thinking, "Who was that guy... and why didn't he even shave?"
But before there was time for anyone to question my presence, the party started. Dish after dish of traditional Bavarian wedding food was carted out: festzuppe, meatballs, sausages, more meatballs. Antonie was busy with her extended family, so I was left to fend for myself. Ordinarily, I would have been fine, but at that moment, sitting there, half stuffed with pork products, drunk on tart white wine, an ounce of paranoia crept up my spine. Here I am, the only Jew, the only Auslander for fifty miles, deep in the heart of Southern Germany, the onetime seat of Hitler's power.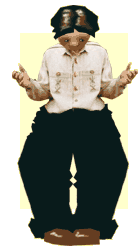 For a second, I was paralyzed with self-consciousness. Do they know? Are they looking at me? At my nose? I scanned the room and saw nothing but fair locks, strong chins, broad shoulders, and waxed mustaches. I wondered what my grandparents would think if they knew where I was.
I sat and watched the crowd for a while. They were talking, laughing, drinking. If they were staring at me, they were doing a damn good job hiding it.
Antonie's mother came over and sat down next to me, gleefully launching into a mangled attempt at conversation. Her English, which consisted primarily of, "my kitchen is red", was giddy and infectious. And finally something snapped. The weight of history has its time and place, and this was not it. I let myself go. I flirted back with the Antonie's mother, danced with the children, improvised a bit part in a puppet show. I even borrowed the saxophone from the tenor player in the band, wiped the lipstick off her reed, and led the rhythm section in a rousing rendition of "All of Me," in C, with dedication to the newlywed couple.
The rest of the night went smoothly, except for one moment, when Antonie's aunt and uncle excitedly approached me. "I love the music of your people. It is so hot blooded, so passionate." They paused, noting my sudden discomfort, then asked in all kindness, "You are Juden, yah?"
Scott
When he's not crashing foreign weddings, Scott Rosenberg is a musician and an editor for Modo in Chicago.