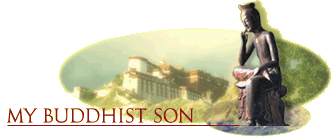 People often travel to find a sense of self, to discover a place or a culture that seems more like home than the place they're actually from. When they find it, some even stay. But the consequence can be leaving people at home who wonder and worry. So sometimes, the ones that are left behind find themselves traveling to rediscover those who have gone. Carole Zimmer is one such person. Her 18 year-old son Jon moved from Brooklyn, New York to Nepal to become a Buddhist monk. She sent us this postcard.
My Buddhist Son
by Carole Zimmer
Dear Rudy:
I've just walked around the blindingly white stupa in Baudanath, Nepal in a clockwise direction. One complete rotation. I'm following the lead of my 18-year old son Jon, the Tibetan Buddhist. We're having lots of fun just walking around and around in a moving sea of tourists, joking about how you don't run into this sort of thing in Brooklyn. If you stand way back and peer up into the baby blue sky, this monument built to hold holy relics looks like some kind of exotic wedding cake. Hundreds of tattered prayer flags in colors straight out of a Crayola box skitter in the breeze. There are these huge painted eyes staring down from the spire. Is it my imagination or are they following me as I veer off to check out these sounds spilling out of a Tibetan Buddhist temple on the other side of the stupa.
Monks in burgundy and canary robes sit cross legged, praying and chanting near a huge, golden Buddha. Jon explains this is a puja, a Tibetan Buddhist prayer ceremony. He's been to a lot of pujas since coming to live in India last November. I've never been separated from him for so long and at first, I didn't even recognize him. Maybe it's the really short hair. Or the monk-like serenity. He seems so grown up, so full of patience and wisdom. The day after we got here, I found out my mom was seriously ill. I panicked, but Jon stayed steady as a rock and helped me to figure out a plan. I would stay for now but head back home if her health didn't improve. It's like I'm the kid and he's the adult.
Back in the sunlight just yards from the temple, crass commerce swallows the solemn chants. It's a shop till you drop situation, with merchants hawking their wares at tables cluttered with amber studded jewelry and stalls filled with iridescent brocades. I'm looking through a pile of butter-textured Pashmina shawls when Jon wanders inside a store, disappearing down a long corridor, narrow as a subway car, dripping with strands of beads from floor to ceiling. I find him at the very back, choosing beads for a custom made strand of prayer beads or malla. And it turns out there is one way in which Jon takes after me. He'll go pretty far to save a few rupees.
Jon: "Three-forty eight, you're talking about now."

Shopkeeper: "Forty-six."

Jon: "Forty-six. All right."

Shopkeeper: "Forty-eight. I'm sorry."

Jon: "You said 46. We have it right here on tape."
On the way back to our hotel, we joke about the irony of bargaining for prayer beads. Where does he think he is, at Loehmanns of Baudanath? We're staying in the Happy Valley Guest House. I know it sounds like a rest home, but it's a cozy little hotel. Jon takes out his burgundy wool shawl, sits on his bed, and opens up a petcha, a brightly colored stack of hand printed prayers, and begins chanting. Pretending to read my book, I sneak a sideways glance at his bowed head. I suddenly remember Jon at 14. It's the day after his Bar Mitzvah. We're in Jerusalem, first time ever at the Wailing Wall. Jon, teary-eyed, has stuck a piece of paper with a message he's written in a crack between two weathered stones. Later, he tells me he was moved by the presence of old souls all around him, communing with his ancestors. And now he's here in the shadow of this stupa, in touch with other spirits. My little Jewish boy from Brooklyn. Rudy, there are certain things you just can't explain.
Sincerely,
Carole Zimmer