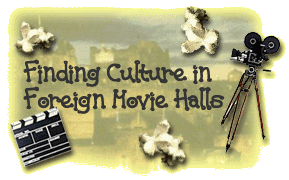 After a day spent taking in the sights, sounds and smells of distant lands, Diane Richard finds insight, and snacks, in the darkness of the movie hall. Diane is an international film buff when she's at home in Minneapolis. But she tells us in this postcard that, sometimes, nothing can seem quite so foreign as watching an American movie abroad.
Finding Culture in Foreign Movie Halls
by Diane Richard
Dear Rudy,
It all started in Edinburgh, with a Merchant Ivory film called A Room with a View. I was a visiting student in the damp, bone-chilling Scottish city when I got sick, perhaps a bit homesick, too. I thought a movie would cheer me up. So I bundled up and set out.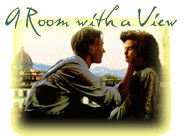 But my neighborhood cinema didn't want me. I was told I needed a reservation to enter, I was turned away at the door.
It was two weeks before I found my way inside. But what a treat! The theater was precious, holding only about 15 viewers at a time. Those of us who got in could lounge in plush, high-backed chairs and sip tea from dainty china cups.
The experience opened a whole new course of study for me. If traveling is a hobby of mine, watching movies in far-flung places is a passion. To me, how a culture celebrates the big screen says as much about a place as its museums and street life.
Amsterdam recently proved an intriguing subject. The Dutch may be liberal about sex and drugs. Not so when it comes to cinema seating. They not only assign seats, but an usher takes you to them. And you're expected to stay in that seat - even if the theater doesn't fill up. Throughout Out of Sight, that sultry film about two lovers on either side of the law, I strained to see George Clooney and Jennifer Lopez from the rear. The upside? The pure pleasure of a beer, bought during intermission, with my popcorn.
In many countries, the snack choices are lots wider than ours, and they reflect the culture, too. Ever thought of jazzing up your popcorn? Mexicans do, with drips of hot pepper sauce.
Movie-going offers political insights as well. In Thailand, portraits of the king and queen are everywhere you look. The royal images even flash on screen before a movie starts, a signal for viewers to rise and sing the national anthem.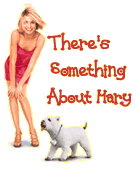 That time, I was surprised. Yet sometimes it's me feeling sorry for everyone else in the audience, who seem to be left out on the joke. In Istanbul, my husband roared at the crude adolescent humor in There's Something about Mary. Viewers twisted around in their seats to look at him, their expressions a study of bewilderment. I pitied the translator who had to render "can of whup-ass" into Turkish subtitles.
Even so, I single out movies in English. I'm as game as the next traveler to steep myself in the daily stew that guest countries serve up. But for me these movies are a respite from my wanderings. They are part of my heritage, bad jokes and all.
When I exit that darkened theater, I leave refreshed and filled with insight not found in any guide book, and all for the price of a ticket.
-- Diane Richard