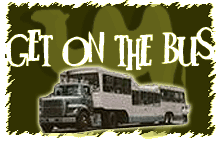 Just a few miles east of Havana, clear blue water and fine white sand adorn the island's northern coast. While tourism agencies schlep their guests in comfortable, air-conditioned buses, there is a more authentic way of getting to the northeast beaches: the Cuban "camello". The Savvy Traveler's Rolando Arrieta hopped aboard.
Get on the Bus
by Rolando Arrieta
A "camello" is basically an 18-wheeler semi-tractor trailer with windows along the side. It transports up to 300 people at one time from one end of Havana to the other. "Camello" is the bus' nickname because it looks like a camel. The cab is the head. The passenger area has two top compartments, the humps of the camel, and a lower compartment in the middle, the stomach. This animal on wheels is huge!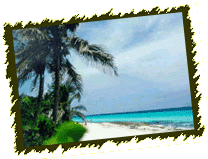 There is no air conditioning. Most of its windows don't open. But if you're willing to be pushed, stomped, squeezed, have a steam bath and be surrounded by foul smells, the "camello" takes you right to the beach. I enjoyed every second of the 30-minute bus ride, especially because it only cost veinte centavos Cubanos, the equivalent of one U.S. penny.
Arango: "No pero eso no puede costar mas si son ellos que te deben de pager pa' que tu los montes. Como conyo tu vas a pager los desgraciados para cojerlo. No lo entiendes? Ellos son los que te deben de pager. Se acabo."
"It shouldn't cost more than that," says Havana resident Agusting Arango. "They're the ones who should be paying me to ride that thing. End of story."
Arango rides the "camello" to work everyday. And, he offered to be my tour guide on our trip to the beach. He also showed me the tricks of the trade on how to get on the bus. Push!
We looked like a herd of cattle. Loads of people were tightly pressing themselves, finding an inch of space in the already crammed bus. Some climbed up through the window. From a distance, tourists, all dressed in white, video taped and took rolls of pictures of the chaotic bus stop scene.
Alexander: "Los Cubanos decimos que en un camello puedes encontrar leguaje adulto, sexo y violencia."
We Cubans say that in a camello you can find adult language, sex and violence.
Alexander Figueroa works for a tourism agency in Havana. Although he would not recommend a "camello" ride to the beach as a first option for travelers, he strongly believes that riding one will give you an ultimate Cuban experience.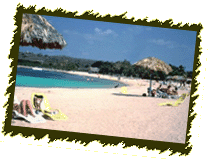 Alexander: "Si vas a estar solamente en lugares turisticos no vas a aprender nada. Tienes que vivir esos momentos que nunca en tu vida has vivido. En esos momentos tu eres un Cubano tambien. Porque vivistes lo mismo que vivimos nosotros todos los dias. Esta opcion es tambien peligrosa. Por todas las vicisitudes que te puedes encontrar en un camello."
If you only do touristy things you won't learn anything. You have to live those moments that you will never live anywhere else. And you'll live it in a camello. You become a Cuban like everyone else and you live what we live everyday. But at the same time, this option also dangerous because of all the other things you find in a camello.

So beware! Guard you passport, your money and what ever personal belongings you think you can fit on board, and take the "camello" bus ride to a lovely Cuban beach. And please . . . stand clear of its closing doors!

From Havana, Cuba, I'm Rolando Arrieta for The Savvy Traveler.

Savvy Resources for Traveling in Cuba:

For more information on how to travel to Cuba, contact the Cuban Interests Section, an office of the Cuban Government, located at 2630 16th Street, N.W., Washington, D.C. 20009. Telephone (202) 797-8518.