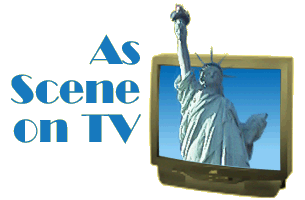 While you're in New York City, you'll want to see the usual suspects: Statue of Liberty, the Met, the Empire State Building. But if you've gotten to know the city through the wonders of television, why not indulge in your secret TV fantasies and hop on "Scene on TV Tours". It's a tour of New York buildings that have been in television series. The Savvy Traveler's Jessica Smith takes us along for the ride.
As Scene on TV
by Jessica Smith
Blau: "My name's Georgette, not the Mary Tyler Moore Georgette, just Georgette."
Every weekend Georgette Blau drives a 15-seat vanload of tourists, three times a day, around the city, pointing out fairly unremarkable-looking buildings.
Blau: "Basically we're going to be seeing exteriors of TV sites all around New York, and there are more exteriors in New York than anywhere in the world.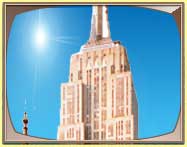 I'm not sure if the tour's aimed at getting the TV-obsessed off the couch or if it's just for curious sightseers. But the 25-year old tour operator admits her own infatuation with the small screen is what inspired her to set up the business.
Blau: "I used to want to be Jan Brady. I don't really know why. In any case, the fantasy of being part of television and being in that perfect world that fantasy world... So next stop is the Cosby house, or the Huxtable household. Everyone calls it the Cosby family but it's really the Huxtable household..."
About sixty TV series have been shot in in New York City over the decades. There's the Honeymooners, Rhoda, and the Odd Couple, whose building still gets mail for Felix and Oscar, by the way. There are early eighties classics like "Different Strokes", and newer hits like "Friends". Plenty of police dramas have been set here, like "NYPD Blue". Which is, of course, on the itinerary.
Blau: "It's actually the same building that was used in 'Kojak', the reason being it was an original building, one of the oldest precincts in New York. Also, this is a street where most of the fire escapes are out front, so it has a real New York look."
Blau even arranges for couple of real police officers to come out and pose for a photo.
Tourist: "I gotta have this for the book."
The precinct building is actually pretty small. And the street is also much narrower than it looks on TV. It's kind of disappointing. The same goes for a lot of the buildings on the tour. One of the things you learn here is how TV producers distort reality, and make their version more real, because you watch theirs week after week.
Blau: "When you shoot from a quarter angle from a wide angle lens, you make the building look a lot taller than it actually is..."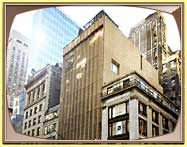 Blau is pointing to the building from the show "Mad About You," which is in the West Village, though the drama's supposedly set in the Upper West Side. Same goes for the series "Friends," and "The Cosbys", which is supposed to take place in Brooklyn. Many of the characters would also have a big problem paying real New York rents, but that doesn't seem to bother the producers.
Then its off to the Upper East Side, through the circular driveway of the building where the Jefferson's lived. And then to the Upper West Side, Seinfeld territory. Highlights include the Kosher bakery where Jerry snatches a marble rye out of an old lady's hands. And the Soup Nazi's soup stall. Blau admits, though, she's really a fan of early TV series, like "Rhoda" and "All in The Family".
Blau: "They had a way of mixing comedy with drama, that was just, it was really good. Also, I think Norman Lear pointed out, his entire generation grew up on plays rather than TV, so you're not recycling TV, you're bringing better stories to a stage."
Blau's passion for TV is proving pretty profitable. She's developing specialty tours for teens, that stick to newer hits like "Friends". And she's also taking the tour to six other cities.
From New York, I'm Jessica Smith for The Savvy Traveler.
Savvy Resources Resources for TV in NYC:
Where to Eat:
"21" Club
21 West 52nd St.,(212) 528-7200
Served drinks to Burt Lancaster and Michelle Pheiffer 40 years apart in "Sweet Smell of Success" and "One Fine Day". The food is overpriced but surprisingly good, and the service is lovely. Lunch for two with wine, about $150.
Where to Stay:
The Algonquin
59 West 44th St., (212) 840-6800
188 rooms for $279 and up, this is probably better known for its screenwriters than for screen idols. In the lobby restaurant, famous for its literary round table, lunch for two with wine costs about $60.
Where to Meet:
Empire State Building
350 Fifth Ave. at 34th St., (212) 736-3100
Where else do you meet in New York? The 86th and 102nd floor observatories are open daily 9:30am to midnight. Admission is $7 for adults, $4 for children.