Meet a group of guys who call themselves the Boys of Summer. Each year, Chris Aubrey, Ed Horowitz and Dan Collison travel to a different part of the country in search of baseball in it's purest form, the way it used to be, played in old stadiums where the seats and the hot dogs were cheap. Unfortunately, the guys have learned that such trips are no longer possible in the major leagues. So they've gone down to the minors. We catch up with them for a view from the stands in Upstate New York.
The Boys of Summer

Chris: "I'm Chris Aubry. They call me 'Pepper'. In real life I'm a grants developer at the University of Maryland. Ed Horowitz, we call him 'Fast Eddy'. Ed's an asthma specialist at the Johns Hopkins School of Public Health."
Dan: And I'm Dan Collison, a.k.a. 'Grizzled'. I'm an independent radio and film producer. Chris, Ed and I are all in our forties; yet we remain boys."
Chris: "Our friends snicker, but we're proud to call ourselves 'The Boys of Summer'. Every year since 1997, we've gone out on the road, into the great expanses of America, in search of a vanishing phenomenon: baseball stadiums with old time charm, the ideal game experience."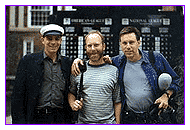 Dan: "Our quest starts in January, at our annual midwinter 'council'. That's when we plan the upcoming itinerary. We choose a region with a cluster of old ballparks. So far we've hit New England, Iowa and upstate New York."
Chris: "Dan's our traveling secretary. He coordinates schedules until we lock-in on a three to five day window when all the stadiums have games. Then, in June or July, The Boys of Summer begin their quest."
Dan: "Beyond the Catskill mountains, just a two hour drive from Manhattan, is the leather-stocking region of New York, a lush mosaic of green pastures, rolling hills, and nine mile lakes."
Chris: "Our first stop is Oneonta, a vibrant city of 14,000 laid out in the rolling hills overlooking the Susquehanna River. Heavy maple boughs shade Main and River streets, both originally Iroquois foot trails. Many of the brick and stone buildings date from the Civil War era. Oneonta's two college campuses add a hipness not ordinarily found in towns this size."
Dan: "We've heard that Oneonta's historic Damasche field is one of the finest places to experience baseball: no gimmicks, no hoopla, but sadly, no onions for the hotdogs. For the true boy of summer, no hot dog is complete without its onions. So we make a pit stop at the Green Earth, a co-op a few blocks up from the park."
Chris: "We are The Boys of Summer. . ."
Clerk: "Okay. . . "
Chris: "And we are here to see a baseball game and they do not serve onions, so we have to bring our own. A local tipped us off."
Chris: "We get more than we bargain for. A local musician witnesses the onion transaction and presents us with a copy of his latest recording."
Chris: "Strange, very strange. Has a soundtrack been prepared for us in advance? We stow our chopped onions in a paper cup and walk down the hill to Damasche field."
Ballpark PA: "Now here's tonight's starting lineup for your Oneonta Tigers..."
Dan: "They've played baseball on this site for almost one hundred years. The steel grandstand was added in 1939 as a WPA project. A rickety, plywood press box teeters at the lip of the grandstand's roof. Twelve rows of aluminum bleachers, just like you might see at your local high school, flank the foul lines. The scoreboard marks only balls and strikes, hits, runs, and errors. There's no 'Jumbotron' here. No, Damasche is right up our alley, the epitome of 'no frills' baseball."
Chris: "The field is the main attraction, the familiar precision of green and brown geometry, the soft contours of Franklin mountain in the distance beyond left field. Such simplicity is intentional, a deliberate attempt by owners Sam and John Nader to present the game, not the event. Damasche field is a true family operation."
Sam: "Sherry, how are you?"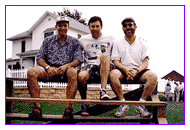 Dan: "We spot general manager Sam Nader before the game, manning the ticket booth and greeting the regulars."
Customer: "So we'll have her 4th of July, so we'll have to have her to a baseball game."
Dan: "Meanwhile, Sam's son, John, is busy raking the infield, filling in for the groundskeeper who's running late tonight."
Sam: "It's an old railroad town..."
Sam: "We go back to the turn of the century, this field has been here since 1906."
Dan: "Sam Nader."
Sam: "Some people think seats have been here that long."
Ballpark PA: "The batter, designated hitter..."
Chris: "Onetona's in the New York-Penn League, the low minors, just a step up from the Rookie League. Some of the players are fresh out of high school and a long way from the Majors but, like The Boys of Summer, Onetona fans are here to see baseball."
Dan: "What's your name?"
Willie: "Willie Nelson. I knew you'd laugh, want me to produce something to prove it?"
Dan: "Willie always buys one ticket, but he never comes alone. He's got five pug faced, buff colored terriers, all of them sitting with him in their carriers on the top row of the bleachers."
Willie: "I live all year long just for baseball. This I can get to and I can be right on top if it and be part of the game. I like it here."
Chris: "The final two innings we sit cross legged on the press box roof, aloft in our tree fort in the soft summer air, blissfully eating hotdogs smothered with the smuggled co-op onions, watching the home team win."
Dan: "As traveling secretary, it's my job to coordinate logistics. Typically, we fly in, then rent a car. But on this tour we're in close, so Fast Eddies' trusty Saturn is serving as the official Boys of Summer vehicle. We break camp from the Holiday Inn and wriggle into a tangle of maps, empty snack food bags and sports pages for the 20 mile drive to Cooperstown."
Chris: "The village itself is worth the trip, with its rustic store fronts and large Victorian homes. This is a vintage county seat. But, the biggest attraction is, of course, the National Baseball Hall of Fame and Museum, a definite must see for any baseball enthusiast. The Boys of Summer are here to honor one of the more obscure men to play the game."
Dan: "During our 1998 'Midwest Tour', we visited my uncle in Marshalltown, Iowa, not far from where the movie 'Field of Dreams' was filmed. Uncle David fed us fresh Iowa corn and tales about old-time baseball played long ago in rural Iowa. In the 1920's, Marshalltown had a Class D Minor League team. When he was a little kid, Uncle David would imitate the peculiar, herky-jerky delivery of an itinerant, right-handed pitcher by the name of Larry Bope. Ever since then, my uncle has been known throughout Marshalltown as 'Larry'. So, after our visit I got Larry Bope's career statistics from the Baseball Hall of Fame and sent them to my uncle. This package led to a story in the Marshalltown paper. The Hall of Fame wanted a copy of the article. We thought it best to deliver it in person."
Chris: "So on behalf of David 'Larry Bope' Collison, we hereby submit these materials to the library."
Tim: "Thank you very much, it will be here when Marshalltown natives stop by."
Chris: "Research director Tim Wiles accepts the document and offers a benediction to send The Boys of Summer on their way."
Tim: "The critic Jacque Barzun said, 'Whoever wants to know the heart and mind of an American should watch baseball.' We used to live in age when every town had a team, it's a story of America."
Dan: "We pile in back of Ed's Saturn and head for our next stop on the tour: Rochester. The Boys of Summer always opt for the scenic route, and we like to build in some time to take in the sights."
Chris: "For several hours we motor up and down the rolling hills in and around the Finger Lakes, immersed in a checkerboard of pastures and forests, classic dairy country. This is the epicenter of Soft Serve ice cream; all the joints are wide open and doing a heavy trade. We've come to Rochester to take in a twilight doubleheader."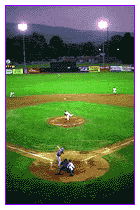 Ballpark PA: "Good evening ladies and gentlemen and welcome to Baseball City USA for Rochester Red Wings baseball."
Dan: "Rochester's Frontier field opened in 1996, which typically is way too modern for The Boys of Summer. But it's either here or Syracuse, and Syracuse has artificial turf. A Boys of Summer bylaw clearly stipulates natural grass."
Chris: "Frontier field is shoe-horned in between a railroad trestle and Rochester's best known landmark, the Kodak building. It looks suspiciously similar to many of the other new stadiums that have gone up across America in the 1990's. Some fans say Frontier field has none of the charm of Silver stadium, which hosted baseball in Rochester for seventy years."
Baseball Fan: "I liked Silver stadium a lot better. When you walked in it almost hugged you, and this is just cement and steel. Dad used to bring me and the whole family. This is just a stadium, there's no love here."
Dan: "This is not the mom-and-pop business we found in Oneonta. This is corporate ball, triple-A, the final rung on the long ladder up to the Major leagues. Here, the stakes are higher. The seats must be filled. The game itself is not necessarily what matters most."
Ballpark PA: "Today's game sponsored by The Money Store: 1 (800) LOAN-YES . . . The final score is . . ."
Chris: "This technotronic assault is too much. Rochester's a bust and we beat a hasty retreat."
Dan: "Elmira, an hour and a half south of Rochester, is home to the Pioneers. We arrive at Dunn field four hours before the game, but the gates are wide open so we let ourselves in to take in some batting practice."
Chris: "Dunn field, a WPA stadium with an art deco facade of dirty concrete, may be a bit tattered around the edges, but it's clearly an American treasure. We sit on wooden seats shaded by the stately grandstand of blue steel, and take in the view of the Chemung River chugging behind its broad levee. Well beyond the right field wall is a white, three story house."
Dan: "Local legend has it that Babe Ruth hit the house during an exhibition game back in the thirties. Elmira's general manager is Rick Sisler, grandson of Hall of Famer 'Gorgeous George' Sisler."
Rick: "I've been to a lot of Minor League parks: Jumbotron. It's a scaled down version of a Big League park. Consequently, they lose flavor of the grassroots of baseball in the Minor leagues, the way it used to be."
Chris: "The Elmira Pioneers are in the Northern League. You can't get any lower than this and still get paid, and players here barely are. Elmira's seasonal payroll for players is a paltry $25,000. But it seems the 'lower' The Boys of Summer go, the more we find exactly what we were looking for in the first place."
Dick: "Make sure the ballpark is clean, beer is cold, hot dogs are hot, promote it properly, do advertising, it takes a good six to eight months to pull it all together before you're ready for opening day."
Dan: "Dick Morris, Charles Buckland, and Jerry Butters have been attending games at Dunn field since they were kids. Every home game you'll find them behind the first base dugout, offering up a home team mix of encouragement and abuse."
Loud Fans: "We haven't missed over one or two games in three years, rain or shine. You do those things when you retire."
Chris: "Do these crazed and robust fans foretell what shall become us, The Boys of Summer? I look wistfully at the tall white house where Babe hit his shot, scripting the imaginary conversation in which I convince my wife to retire not to Miami or Costa Rica, but to Elmira, New York, this city of rusted tracks, cemeteries, and prisons. Yes, we buy that white house and every night the Pioneers are in town, my friends and I, Ed and Dan, are up beneath the cool blue steel, immersed in the continuum that has sustained itself on this ground since 1888. We shudder in anticipation as the sun slips below the levee, a sultry Sunday evening in America as the home team carries the day. From upstate New York, I'm Chris Aubry. . . "
Dan: "... and I'm Dan Collison for The Savvy Traveler."