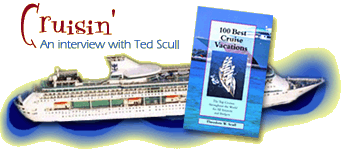 The experience of taking a cruise no longer has to be limited to all-night buffets and lounging on the lido deck. Our host Rudy Maxa interviews cruise expert Jack Scull about what these seafaring resorts have to offer a savvy traveler in the modern age.
Crusin'
An Interview with Ted Scull
These days, some of the most popular vacations are cruises. But there's so much more out there than your typical twelve days in the Caribbean, or to Mexico, or through Alaska's Inside Passage. Just ask cruise expert Ted Scull. He's written the book, 100 Best Cruise Vacations, where he profiles expeditions up the Yangtze, sailing excursions to the Great Barrier Reef and even some of those mega-ship, Caribbean holidays.
In fact, Ted just got back from a package tour in Egypt, which focused on Egyptian culture, both modern and ancient. Well, as you can imagine, I had to get Ted in the studio to ask him about it.
Savvy Resources:
Some sanitation scores have just come in from the Centers for Disease Control, rating a number of cruise ships. You can see this yourself by checking out the CDC Cruise Ship Survey online. Believe it or not, the QE2 was the only one rated unsatisfactorily.