"A gross and indecent expression of sensual intoxication." That's how one of Napoleon's generals described belly dancing two centuries ago, during the French occupation of Cairo. Presumably, the average soldier was a bit more appreciative of the art form. Today, Islamic fundamentalists are the chief critics of Oriental dance, as it's sometimes called, yet as The Savvy Traveler's Tom Verde reports, Cairo remains the belly dancing capital of the world.
The Mystique of Belly Dancing
by Tom Verde
It's a Thursday night in Cairo, the Arab world's big night out, Friday being the Muslim Sabbath. Street vendors, hucksters, and shoeshine boys crowd the streets, all vying, it seems, for my wallet full of Egyptian pounds, but no chance. I'm saving my dough for the nightclubs, and I'm gonna need it. Cruising the belly dancing cabarets of Cairo ain't cheap, nor is it for early-to-bedders. Many of the good dancers don't hit the stage until one or two in the morning. As for the cover charges, well there aren't any, technically, but the drink minimums run anywhere from twenty five to fifty bucks a head.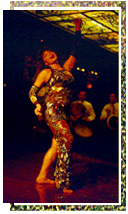 Harem Street is where many of the cabbies and hotel concierges will send you when you ask about belly dancing clubs. But Harem Street is strictly for tourists, a place to watch top-heavy, silicone enhanced amateurs bump and grind their way across the stage in sequined getups that highlight the flesh, which is what Harem Street shows tend to be about. But that's not real belly dancing. Sure, there's some bare skin involved, but belly dancing is more than just an oriental form of burlesque. It's a ritualistic fertility dance that dates back Pharoanic times, a folk custom known as Beladi dancing, a term we westerners bastardized into the seemingly apt description, belly dancing.
To get a taste of the real thing, you have to hit the five star hotels, places like the Sheraton Cairo, where a willowy, auburn-haired young woman named Dalila performs on Thursday nights. Fairly new to the game, the professionally trained Dalila hopes to be as successful as some of her predecessors, belly dancing superstars like Fifi Abduh, Dina or Lucy, who rake in as much as six figures a year performing their art in nightclubs and at private parties and weddings.
The Egyptians are the best belly dancers, Dalila tells me, because the music and the rhythm is in their blood.
But it's a bloodline that's been thinned in recent years by threats of violence from Islamic fundamentalists who condemn belly dancing as a perversion. Such threats have forced some Egyptian dancers into early retirement, or dissuaded others from going into the profession.
Jasmina: "Here, Oriental dance is very controversial as a career."
Jasmina is a belly dancer at the Heliopolis Meridien.
Jasmina: "It's a very open expression of a woman's sensuality and beauty and inner power, and I think within this culture it's not very accepted for a woman to display this in public."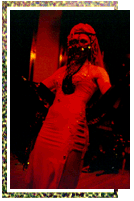 But instead of shutting down the nightclubs, the controversy has actually opened the floodgates to a whole new generation of foreign belly dancers. Dancers like Jasmina, who hails from England, now dominate the stages of Cairo's nightclubs. As non-Muslims, these women aren't subject to the same kind of heat from the religious right as their Arab colleagues, and so on any given night, you're more likely to see a Russian, Argentinean, or even American dancer on the stage than you are an Egyptian.
Still, the best are trained by Egyptians, says Jasmina, one of the city's most popular belly dancers. English or no, she certainly embodies all the mysteries of the orient when she performs. Her movements are fluid, erotic, alluring. At one moment, tense and quivering like tail of a rattlesnake, and the next as undulant as a wisp of smoke. Every muscle in her body, it seems, is in motion, yet in complete control. In the overall scheme of things, the belly plays only a bit part.
Jasmina: "It would be more accurate to describe the hip rather than the belly, because basically the center of gravity is in the lower body rather than, for example, in ballet where you are trying to elevate yourself against gravity continuously. In oriental dance you're working with gravity, so it's in a way more natural."
Jasmina stages a full-scale production, with supporting characters who wrap her in silk banners, spin her around and provide occasional comic relief. Other dancers like Dalila keep their shows simple, with few props other than perhaps a pair of finger cymbals to enhance the show. In the end, it's a matter of taste. Call it a serious art form, call it an adolescent male fantasy, call it what you like, belly dancing always has been and remains as much a part of the Egyptian mystique as the aroma of the spice market or the silent but enticing gaze of the Sphinx.
In Cairo, I'm Tom Verde for The Savvy Traveler.
Savvy Resources for Belly Dancing:
When in Cairo, you can catch the following belly dancers at these locations. Call for times and dates of the shows, as they tend to change:

Jasmina
The Disco at Le Meridien Heliopolis
51 Al Orouba Street
Heliopolis 11341
Cairo
Tel: 20-2-290-5055
e-mail: mer-hel1@brainy1.ie-eg.com

Dalila
Alladin Room
Cairo Sheraton
Midan Gala
Dokki, Giza
Cairo
Tel: 20-2-348-8600

Soraya
Omar El Khayam Restaurant
Helman Shepard Hotel
Garden City
Cairo
Tel: 20-2-355-3900

For information on belly dancing in general, check out the following website: http://www.bdancer.com/

For information on visiting Cairo and Egypt, contact US Egyptian Tourist Authority at (877) 773-4978 or visit their website at: http://www.touregypt.net/

The Gilded Serpent
http://www.gildedserpent.com

Yasmina's Joy of Belly Dancing
http://www.joyofbellydancing.com

The Art Of Middle Eastern Dance
http://www.shira.net