The changing of seasons often means one thing for some people: garage sales. It's time to clean out the attic or basement and get rid of some old junk, like that old collection of LP records, faded photographs, or threadbare clothes. But some people believe their junk may contain gems. And some even go so far as to wrap up their items and send them to the Smithsonian Institution in Washington, D.C.

Each year, its 16 museums receive thousands of letters of inquiry and packages containing unsolicited objects to be added to their collections or displays. Lex Gillespie reports.
Smithsonian Rejects
by Lex Gillespie
On the first floor of the Smithsonian's Museum of American History sits a relic from the Cold War, an underground nuclear fallout shelter.
1950's Announcer: "When there is a flash, duck and cover and do it fast. Here's Tony, going to his Cub Scout meeting. He knows the bomb can explode anytime of the year, day or night. He's ready for it. Duck 'n cover!"
Nearby, a black and white TV flashes bulletins from the 1950s with tips about surviving nuclear war. And inside "The Family Fallout Shelter", as it's called, are all the trappings of a typical American home. There's a pantry stocked with Corn Flakes and Velveeta Cheese. How the Smithsonian acquired this shelter was a stroke of luck. Historian Larry Bird is the exhibit's curator. Bird recalls how one afternoon in 1991, he was looking for ideas for a display on science in American life, when the mail arrived.
Bird: "I was wrestling with what this might look like, when across my desk came a letter from a guy in Indiana who had a family fallout shelter buried in his yard. And I thought, here we go! And I told him if we were going to take this rather large, self-contained, double-hulled shelter, that it would have to be the most researched, highly-documented piece. And he set out around his neighborhood and began to interview people about their memories of seeing this thing installed. And that's the one you see now, downstairs in Science in American Life. We interpret it as one family's response to the Cold War."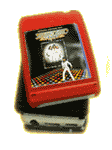 But not all artifacts offered to the Smithsonian have enough historic or scientific merit to be put on display.
[ elevator bell rings, door opens ]
A dumbwaiter brings many unsolicited packages to the public inquiry mail unit in the Castle, the Smithsonian's fortress-like office building. Katherine Neil Ridgley is the unit's manager. On a recent morning, she opened a cardboard box that came in the mail.
Katherine: "OK, here we have a box filled with eight-track cassettes. You remember those?"
Inside the box are bulky eight track tapes, a failed audio innovation from the sixties and seventies. Titles include 'Meet the Beatles' and 'Jesus Christ Superstar.' Several classics by 'The Beach Boys.'
Katherine: "And it came from Pinoli, California. So it's traveled a long ways. Perhaps that's why there are Beach Boy tapes in here. Who knows. Maybe this is an old surfer who was cleaning out things and thought perhaps these things could be of some use to us."
Ridgely says that even stranger stuff has shown up in the mail. One package contained a rubber chicken. Its owner claimed it had survived an expedition to Antarctica. And back in 1976, during the American Bicentennial, one man was so overcome by patriotic fervor that he dyed his beard red, white and blue, cut it off, and sent it to the Smithsonian. And once, Ridgley recalls, she opened an ominous-looking box and was astounded by what she found.
Katherine: "A dead, stuffed lizard. That's probably not something that we're going to add to our collections. It didn't arrive with any kind of correspondence so there was no way we could return it. And after a couple of days, it started to smell, so we threw it out."

But if an object does have some promise, the Public Inquiry Office contacts museum curators to see if there's any interest in keeping it. Only a few make it into the Smithsonian's 16 museums, which already contain more than 140 million articles. Marlene Rothacker is a former museum correspondence clerk. Rothacker says some donations are so frivolous that they are immediately returned to their senders.
Rothacker: "One time someone sent a shirt from the '70s. You know, the wide collar, offensive pattern and polyester. And they had always joked to their father. It was their father's shirt, you know, someday that's going to end up in the Smithsonian because he wouldn't get rid of it, you know. They actually packaged up the shirt, not really a photograph, they just packaged it up and they said it was always a family joke that it would be at the Smithsonian, so they took the liberty of sending it, and we sent it back."
But some of the Museum's most prized possessions are, in fact, gifts. Dorothy's red slippers from 'The Wizard of Oz' were given by an anonymous donor in 1979. They found a home at the Smithsonian's American History Museum.
Often, the Smithsonian looks for objects on its own. One of its most celebrated acquisitions is 'The Spirit of St. Louis', the famed airplane that Charles Lindbergh flew across the Atlantic in 1927. While 'Lucky Lindy' was still in the air on his flight, Smithsonian officials sent a telegram ahead of him to Paris, asking if he'd donate his plane. Lindbergh agreed, and 'The Spirit of St. Louis' is now prominently displayed at the Air and Space Museum. But for any common folk with thoughts of making donations, the Smithsonian has one request: send a letter of inquiry FIRST before boxing up and shipping off that stuffed lizard or polyester disco shirt.
In Washington, I'm Lex Gillespie for The Savvy Traveler.