Maureen Geoghegan and Annice Tatken found during a drive from Chicago to the Grand Canyon, that a good roadtrip can be the mother of invention. They've opened The Roadtrip Store for all you motor travel needs. The Savvy Traveler's Elizabethe Meister recently met the two women to hear about it.
Hit the Road
by Elizabeth Meister
Maureen Geoghegan and Annice Tatken know pretty much exactly when their brainchild, Chicago's "Hit the Road", a travel store devoted to the art of the American road trip, was conceived. Flashback with me to six years ago. We're along small-town Route 66. The duo's '86 Honda Civic is pulled off the road in dusty Sayre, Oklahoma ...
Maureen: "...where they filmed part of 'The Grapes of Wrath'. It's 5:07 pm, 103 degrees."
Meet Maureen. She's kicked back with a cheap tape recorder, musing into the duo's audio journal. Annice looks around outside in the sweltering heat while Maureen offers the view from the passenger seat.
Maureen: "There are two storm cellar doors on either side of the street that were originally used for an underground pedestrian walkway..."

[Sound of screeching tires followed by crunching metal]
That's the sound of an '86 Civic being crunched. A local, distracted by the "accidental tourists," plowed into the car's rear end. And what of Maureen? Annice explains.
Annice: "Suffice it to say that I knew she was okay because immediately she started screaming things that I can't repeat here on public radio."
And with that, a store was born.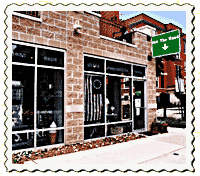 Maureen and Annice started Hit the Road as a way to keep alive the spirit of their dead Honda and the unbelievable journey it led them on through Middle America. Visit the shop, perched on a street corner not far from Wrigley Field in Chicago, and you'll find a giddy collection of travel guides, road trip treatises, a wall full of maps, road photography and tons of practical gear. They've got it all, even ancient gas pumps, lawn furniture made of recycled road signs, Travel Bingo and those cool old Yes and No invisible ink games you used to find in truckstops.
So there's a lot to buy. But somehow, the place feels more like a grand altar for the road than a store. Maureen says that's in part because Hit the Road is not your typical chain-run travel shop.
Maureen: "We just had a woman yesterday who's doing a thesis on female protagonists of road-trip novels, post-World War II, and asked us what we knew about that. And of course, on the face of things, we said we don't know anything about that and then realized, 'Well wait a minute. We've got about five books that probably fit into what you're talking about' and, 'Hey, I read this other book. It's out of print but I know the author and I bet he would talk to you.' We ended up striking up a conversation and being a good resource to that person"
If you're not in Chicago, you can call or email the Hit The Road team for book recommendations and routing advice,or you can chat on their web site at www.roadtripstore.com about your travel experiences. The pair are practical, too. If you're looking for just the basics, they'll send you home with a good $11 atlas. It's all in the name of bringing the special chemistry of the road trip into everyone's lives, chemistry Maureen and Annice felt especially when they rolled through towns like Sayre, Oklahoma, on their way back to Chicago.
Maureen: "The thing about a road trip is you are really going through where people live and work and play and so you put yourself in their life. You stop for gas, you're in these peoples lives for a little bit. You go to have a bite to eat and the waitress has been there for twenty years. You are plunked into their life. While making the journey, while you are transporting yourself, you are having a singular experience."

For all their recommendations, Maureen and Annice say there's really no formula for a good road trip. It's all attitude and in their case, perhaps a wrecked car and some primal screams, that yields the kind of adventure that inspires people to change their lives.
From Chicago, I'm Elizabeth Meister reporting for the Savvy Traveler.
Savvy Resources for the road trip travel store:
Hit The Road
"The road trip travel store."
Maureen Geoghegan & Annice Tatken, Proprietors
3758 N. Southport Avenue
Chicago, IL 60613 USA
phone: 773.388.8338
fax: 773.388.8899
email: hittheroad@roadtripstore.com
website: www.roadtripstore.com

Spring Store Hours (Central Time):
Mon. closed
Tues.-Sat. 11:30 a.m. - 7 p.m.
Sun. 11:30 a.m. - 5 p.m.