Imagine dancing in China's early morning light. The steps may be not be modern but the desire to dance in China is timeless. Find out about one woman's waltz in Beijing.
Dancing at Dawn in Beijing
by Shirley Strenshensky
Dear Rudy,
From our l4th floor room in the New Century hotel in Beijing, I looked down onto a city park where couples were whirling around, dancing. Like, ballroom dancing. Did I mention that it was seven o'clock in the morning? They were waltzing and fox-trotting. I could hear the music, faintly. "Get your cameras, let's go!" I called to my husband. In no time, we were in the park, watching some 30 Chinese couples of varying ages whirl and dip and glide, their footwork intricate and perfect, even professional. The music was coming from a rickety little cart, but it was turgid, political music and the dancers ignored it. One young couple was performing a classic tango, faces frozen in the expressions required by the dance, feet moving in amazing patterns. One dancer smiled at us and, summoning all her English, said, "All China, like this. Morning. We dance." Did they ever!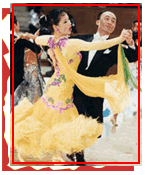 A tall, elegant man appeared before me, his arms out in silent invitation and I waltzed right into them. I wish I could say we whirled off together and astonished everyone with our incredible grace. Alas, when it comes to ballroom dancing I am incapable of following. I began to step on my partner's feet; he responded with "one-two-three, one-two-three." Others stopped to watch us and they added their "one-two-three" incantation to the chorus. One woman even danced alongside me to demonstrate the steps.
Finally, my gracious partner called over his "teacher," a dapper man in snazzy black pants, a black shirt with navy blue suspenders, and a dancer's stance. "Disco?" he said to me, confident, arms out.
"No," I answered tentatively, trying desperately to find a way to extricate myself. "Disco is out," I told him. "Jitterbug is in."
"Jit-ter-bug?" he repeated, puzzled. "Jit-ter-bug?" the others tasted the word. I lifted an eyebrow, a challenge.
He lifted one back, ready to follow my lead. For the next several minutes, with Big Band sounds filling my head, I whirled and twirled and twisted my hips, flew in and out with arms rocking to the music. I gyrated through every swing step I could remember. "Pennsylvania 6-5000" I sang out, right hand waving in the air. And the teacher was right there with me, following all my crazy, made-up moves, flinging me out and catching me back, hips swiveling, flying high with my ersatz jitterbug. His students gathered in a circle cheering us on. And I thought, the only thing that would make this any better would be Benny Goodman's "Stompin' at the Savoy" in the early morning light in Beijing, China.
That postcard was sent by Shirley Strenshensky who, when she's not dancing her way around, lives and writes in Berkeley, California.