If you don't like the noise and crowds of big events, and you're looking for an inexpensive getaway to a place rich with history and culture, how about hopping into your car and heading south of the border? The Savvy Traveler's Judie Fein found a hidden gem in Casas Grades, Mexico where she takes us for a tour.
Welcome to Casas Grandes
by Judith Fein
It's eleven o'clock at night. My husband and I are walking along a dirt road in new Casas Grandes, in Chihuahua, Mexico. There isn't a car in sight. Suddenly in front of us, a large illuminated building looms. We walk inside, and it's a nightclub. We're the only Gringos. Someone asks us a few questions, and the next thing we know, we are hauled onto the stage, facing a crowd of l,200 people and a barrage of spotlights. A microphone is stuck into my face.
Judith: "Uh...hi there. I'm a reporter for the Savvy Traveler. It's a travel show that goes out across America."
The entire crowd screams back at me: Welcome to Casas Grandes. Then they actually cheer.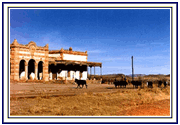 This has to be one of the friendliest places on earth. Within 24 hours we are invited to a Chihuahua-style wedding, a young girl's quincinera or, 15th birthday party, and we're treated to lip-smacking chicken burritos in mole sauce at Mechy's, the best fast food joint in town.
If you're tired of the stress and mess of city life, get in your car and come on down. It's an easy haul, only about 3 hours from the El Paso/Juarez border or from Columbus, New Mexico. You pass through verdant fields with bright red chilies, and arrive at the main street in town, where hotels run around $35 a night and it's hard to spend more than five or ten dollars on a meal. The area is so untouristy and undiscovered that the Mexico guide books can't even agree on how to spell Casas Grandes, although an 's' at the end of both words is grammatically correct.
In Old Casas Grandes, a ten minute drive from the new city, we enter a photographer's dream. Wind-blown, sculptural, evocative. Paquime is considered the largest and most important archeological ruin in all of Northern Mexico. The earliest habitations were pit houses from around 700 A.D. The peak of the civilization was in the l2th century, and then, for an unknown reason, it went into decline and was abandoned in the l4th century.
Beautiful Paquime rises out of the desert, like the ghost town of a sophisticated indigenous culture. The low walls of the earth-toned village are made of rammed earth, and the ruins of houses, granaries and storage areas surround us as we walk along the gravel path.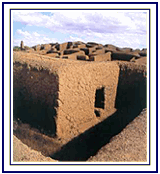 After we and our imaginations finish wandering through the ruins, we visit the adjacent Paquime museum. Through various displays, we learn that Paquime was part of a vast, ancient network of Indian clans and tribes. It extended from South American to the Southwest of North America, and they traded and exchanged elements of craft, culture and ceremony with each other.
The following day, we meet a young local woman named Olivia de Ollivera and we tell her how fascinated we are by the Paquime culture. She asks if we would like to go to an ancient riverbed named Arroyo de los Monos to see their petroglyphs. Sure, we say, why not? Olivia neglects to tell us that it's a difficult trip over very rough terrain.
Our poor car wishes it were a four-wheel-drive as we climb over stones, rocks and then boulders. Our muffler groans and rattles and finally, we arrive at ancient petroglyphs on stone cliff faces. Olivia tries to decipher some of the figures:
Olivia: "I see a kind of square with an 'X' in the middle and a '5' with another square or something like that, but probably we can find some animals."
We do find animals, as well as spirals, snakes and humans. We stand there, in the quiet of the arroyo, moved by the mysterious etchings. Were they clan markings? Did they indicate where there was water? Did they celebrate a hunt? The Paquime are gone, and we will never know.
Olivia has officially taken us under her wing. Once the car is fixed, we drive to the town of Old Cases Grandes, which is not far from the Paquime ruins. We wander past quaint stucco galleries and shops and a house where legend has it that the revolutionary Pancho Villa lived. By chance, we enter a small arts and crafts store where the shopkeeper offers us a local specialty, a strange potion that looks like a rattlesnake in clear liquid.
Judith: "What's in that jar?"

Shopkeeper: "It's Sotol with a rattlesnake. People drink it as a medicine for rheumatism and arthritis..."
I pass on the Sotol, and offer my condolences to the poor rattlesnake. A few minutes away from the Sotol shop is another kind of healing. Olivia takes us to a local curandera, or medicine woman, named Maria Rivera. She offers us a "limpia" or energetic cleansing and assures us that she practices blanca, or white magic and not the other kind. Olivia explains Maria's technique:
Olivia: "She makes cleansings and she cures people that are very ill, like cancers. And she knows how to do cleansings when you have a bad spirit."
Maria prays before she does a healing on me. She moves eggs and lemons around and over my body, and then cracks the eggs in a glass jar to get a reading. Depending upon the cloudiness of the eggs and how much gop floats around in the jar, Maria is able to do a diagnostic work-up on me. She says I'm okay, except for my belly.
Now that I am blessed and cleansed, Olivia moves us along to the opening of Las Guacamayas art gallery in Old Casas Grandes. It's a big local event. The gallery is constructed in the style of ancient Paquime dwellings, with rammed earth and wooden overhead beams called "vigas", exactly the way the ancestors used to live. On display are the most amazing pieces of pottery: polychrome, zoomorphic, masterworks of art from a legendary nearby village named Mata Ortiz. It was a dying town until the inhabits discovered how to revive the pottery of the ancient Paquime. Now the area has become a magnet for ceramic-lovers. We plan on taking a day-trip there soon.
Meanwhile, amigos, I have to leave you, because someone has just handed me my second margerita of the evening and beckoned me to join the food line. Spread in front of me are mounds of burritos and pots full of posole and chili stew. Beyond the food tables, a local mariachi group strikes up a local song with very appropriate lyrics: Vive Chihuahua.
Vive Chihuahua. Vive Casas Grandes. Vive Mexico. I'll second that. This is Senora Judie Fein, for the Savvy Traveler.