Intergenerational Travel
An Interview with Helena Koenig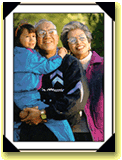 I never had the pleasure of traveling with my grandparents when I was a child. So I think the trend toward intergenerational travel -- grandparents showing their grandkids the world -- is a terrific idea. Parents get a break, grandparents get the kids all to themselves, and the children...well, they get a reprieve from homework and chores. Helena Koenig saw a need for tours that brought children and their grandparents together, so she started a company called Grandtravel, based in Bethesda, Maryland. Helena's company has been bringing young and old together in the U.S. and abroad for nearly 15 years. I asked her how she got started.
Savvy Resources:
Grandtravel
http://www.grandtrvl.com/

AARP - Traveling with Your Grandchildren
http://www.aarp.org/confacts/money/grandtrav.html

Sierra Club
Each summer, the Sierra Club sponsors a trip for grandparents with grandkids ages 5 and up. Based at the club's rustic Clair Tappaan Lodge in California's Sierra Nevada mountains, children and grandparents can hike, fish, go horseback riding, and picnic at Donner Lake. Evenings bring campfire sing-alongs and marshmallow roasts. Call 415-923-5588 for dates and current rates.
http://www.sierraclub.org/outings/