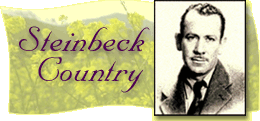 "A journey is a person in itself, no two are alike." You may recognize that quote from John Steinbeck's book, Travels with Charley. Steinbeck would have celebrated his 98th birthday last week. So today we journey to the place that inspired him, in search of the Nobel Prize-winning author and the man himself. From the central Coast of California, Rachel Anne Goodman goes in search of Steinbeck.
Steinbeck Country
by Rachel Anne Goodman
The Salinas Valley is an 85-mile patchwork of lettuce and strawberry fields, dotted by farming towns. John Ernst Steinbeck grew up here and wrote about the people with unvarnished honesty. In exchange, the elders of his hometown, Salinas, shunned him as a troublemaker. Even today, on the streets, the ghost of his bad reputation lingers.
People on Street: "He was the black sheep of the family. Oh, yeah. He went to Stanford University but he never finished, he was always drifting around and getting stories. He was a real story teller. He really got carried away in East of Eden though, that was real shocker!"
On Central Avenue I locate the stately Victorian mansion where Steinbeck was born in 1902. I am searching for signs of Steinbeck, the black sheep.
[Sounds of restaurant crowd...]
Instead, I find a restaurant, run by a Steinbeck preservation group in what would have been the family parlor. The chicken pot pie and peach cobbler are delicious, although the look on Ma Steinbeck's face says she could do better.
Hostess: "That's a photo of his mother and father, you probably guessed that."

Rachel: "So people come here from all over?"

Mary: "Take a look at our guest book. We've had 'em from Pakistan, from England. We have 'em from Brazil, Indonesia, Pakistan, England Canada..."

Indian woman: "My parents are visiting from India, and whenever they come I bring them here, and Steinbeck is very popular in India."
Just twenty miles west, but a world away lies the seaside town of Pacific Grove and a street called Cannery Row. Today, it's a bustling tourist Mecca, with wax museums and fudge shops.
Rachel: "Hi, have you ever read John Steinbeck?"

Man: "No, I haven't."

Second Man: "I've heard of him. In fact I didn't realize John Steinbeck was here until we got here this week."
On the surface, there's not much of the brawling sardine canning town Steinbeck observed when he moved here in 1930. Here are the opening lines of his novel, Cannery Row.
"Cannery Row in Monterey in California is a poem, a stink, a grating noise, a quality of light, a tone, a habit, a nostalgia, a dream."
There's something romantic about the old Cannery Row of Steinbeck's day. If you sit by the rocks on a foggy day, and listen to the sea lions barking off Point Pinos, you can conjure it back.
Steinbeck described silver rivers of sardines pouring out of boats and into canneries which rattled and screamed round the clock. At the fringes of this boom town, Steinbeck met a string of motley characters who often ended up in his books. When the fog is thick enough, you can almost see the ghost of Doc Ricketts collecting starfish for his lab or Mac and the boys returning from a frog hunt.
"The bums who retired in disgust under the black cypress tree come out to sit on the rusty pipes in the vacant lot. The girls from Dora's emerge for a bit of sun if there is any. Doc strolls from the Western Biological Laboratory and crosses the street to Lee Chong's grocery for two quarts of beer."
Lee Chong's grocery now sells trinkets, but next door, La Ida's bar retains much of its old character. It's now called Kalisa's after its owner, Kalisa Moore. She loves to recount the events, real and fictional that happened here.
Kalisa: "Eddie the bartender saved all the leftover drinks from the customers and put them in one gallon jar. Sometimes he even took the full drinks and put it in there when people went to the bathroom, so they'd have to buy new drinks."

"Eddie poured glasses half or two-thirds full into the funnel. The resulting punch was always interesting if not surprising."
Kalisa met Steinbeck in 1962. By then he was a major literary figure, having won the Pulitzer Prize for the Grapes of Wrath, and the Nobel Prize for literature. He came back from New York, looking for old friends.
Kalisa: "He was very wonderful. He was very subdued at the time because he had just come to Monterey and none of his old friends were here, which was rather sad. There's John Steinbeck over there. That picture was taken when he received his Nobel Peace [sic] Prize. There's Ed Rickets, I never met him, he died before I came."
I can picture Steinbeck in his twilight years, brooding over a beer, missing his old friend Ed "Doc" Ricketts,the brilliant marine biologist who was killed by a train in 1948.
Across from Kalisa's is one of the main attractions of Cannery Row. The Monterey Bay Aquarium stands on the site of the old Havden Cannery and still resembles it from outside. Biologist Steve Webster is one of its founders.
Steve: "We're standing in front of three oil-fired boilers, each the size of a house, that did most of the work of the cannery. There was a steam whistle that would blow and call the cannery workers to the canneries when the boats came in in the morning."
The aquarium used to blast the whistle every day at opening time, but visitors complained it was too loud.
"And the whistle blows again, and the Wops and Chinamen and Pollaks, men and women, straggle out and droop their ways up the hill into the town and Cannery Row becomes itself again, quiet, and magical."
The canneries are quiet now. They went belly-up in the late forties when the sardine fishery crashed. Steinbeck, the struggling young writer of Cannery Row, went on to become one of the great writers of our time.
Steinbeck: "Such is the prestige of the Nobel award and of this place which I stand, that I am compelled not to squeak like a grateful and apologetic mouse, but to roar like a lion out of pride in my profession and the good and great men who have practiced it over the ages."
John Steinbeck died in New York in 1968. He is buried in the Garden of Memories cemetery in Salinas.
I'm Rachel Anne Goodman, For The Savvy Traveler.