The Iditarod: this weekend kicks off what's called "The Last Great Race on Earth." Participants mush their way 1100 miles from Anchorage...to Nome. The Savvy Traveler's Geo Beach has a ringside seat from his Alaskan residence. And, being the good citizen that he is, Geo knows a little something about his home state going to the dogs.
A Dog-Pull-Dog World
by Geo Beach
Dear Rudy,
Every dog has its day and right now it's the dog days of winter up here on the top of the planet. Of course there are lots of ways to travel the north country during cold season: you can ice skate, snowshoe, cross-country ski, and, if you're a really studly, dude, you can even stud up your bicycle tires for a winter ride. But nothing beats going to the dogs.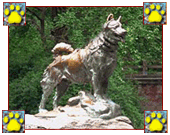 It's an old tradition up here. When Russian explorers first arrived they found Alaskan Malamutes hauling sledges for Eskimos. Then the Russians brought over their Samoyeds and Siberian Huskies and pretty soon folks were hot-dogging across the backcountry with sleds full of gold, or sourdough pancakes, or packages for the post office.
Sometimes the packages were very special delivery. Seventy-five years ago a relay of dog teams ran 700 miles through whiteout conditions carrying a new serum to save the town of Nome from the grip of a diphtheria epidemic. Balto, the lead dog on the last leg, became an international hero; he's got a bronze statue in New York's Central Park. Balto's adventure even inspired a bit of doggerel from Rudyard Kipling:

This is a time for heroics,
This is a time to be brave.
If we all work together
And do our part,
These people's lives we'll save!
Mush! Everybody mush!
Just so. Well, right now, the man who was Admiral Byrd's dog handler in Antarctica back in 1929, 94-year-old Col. Norman Vaughn, is mushing across that same old trail to Nome, stopping in villages along the way to remind kids to get their inoculations.
And Rudy, speaking of staying in the pink, just because we're bundled up for winter, don't forget our northern natural beauties. The alluring Aliy Zirkle just won the Yukon Quest, that wild sled dog race from Fairbanks, Alaska, to Whitehorse, Canada -- the first woman Quest champ. It was 15 years ago that the lovely Libby Riddles stumped conventional wisdom and become the first woman to win the Iditarod, Alaska's 1049-mile race from Anchorage to Nome. There have been plenty more victories by women since then. And right now on the Iditarod trail, eleven women are getting pulled by along by man's best friends. Talk about wagging the dog!
I'm serious Rudy, you ought to hitch your dog-star to a dogsled and slide on up here. You don't have to mush north in the wintertime to get a ride, though. With all these glaciers and ice fields, there are outfits that will put you in the driver's seat all summer long. And they'll send you home with a tale or two -- or maybe teach you some new tricks.
Your dogmatic correspondent,
Geo Beach