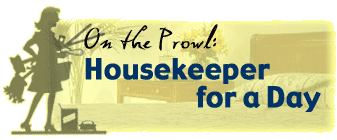 You may not know this about me, but I'm a very neat person. Some people might say borderline fanatic. I'm the son of a colonel who used to check every aspect of my work after I cleaned. So, this being an ingrained part of my psyche, I clean up not only in my own home, but even when I go to a hotel. I like to leave the room as tidy as I found it because I've always assumed it's probably helpful to the housekeeping staff. Little did I know how helpful until recently when I became a housekeeper for a day at Washington, D.C.'s Four Seasons Hotel. In just a few hours, I learned volumes about both what you as a guest can expect from a hotel and how you can be helpful to the staff if you're so inclined. I think it's something every traveler should know. So come along for a behind-the-scenes glimpse into hotel housekeeping.
On the Prowl: Housekeeper for a Day
by Rudy Maxa
Our day's work begins at 8:00 a.m. sharp with the morning meeting. The morning housekeeping staff, which numbers about 30 at the Four Seasons, packs in to a tiny office space in the basement of the hotel where Assistant Director of Housekeeping Doug Larose hands out the daily assignments."
Doug: "So we've got a very busy day. 170 departures today, 175 arrivals. We will be sold out tonight. Next week we're looking to be sold out two nights. Next weekend we'll have a lighter load. The project for the day is to clean fingerprints and whatnot on the windows. Alright? So we will start passing out the boards. Any questions?"
Nobody had any questions, so out went the assignments.
Doug: "Alright. Winnie, hi Winnie, Fatima, Chaida. . ."
Each housekeeper is expected to clean 14 rooms per day with the assumption that it should take no more than half an hour for each. Sounded doable, I thought, so I headed upstairs to a freshly abandoned room to meet my mentor, Sonya Rivera, who's trained much of the housekeeping staff in her eight years at the Four Seasons.
Rivera: "Hello, housekeeping..."

Maxa: "Hi Sonya, I'm Rudy Maxa. How do you do. I'm here to learn!"

Rivera: "OK."
Sonya exuded an air of efficiency, a certain command over this messy room. But I could see by her kind eyes and smiling face that there was nothing to fear.
Maxa: "Alright, so let's look at this room here. Just what do you first think when you see this room room. Is this very bad?"

Rivera: "No, it's good."

Maxa: "Not too bad."

Rivera: "Couple dishes, I'll call room service."

Maxa: "Boy, look at all the chocolate truffles this guy or this woman left behind. Can we eat one of these?"

Rivera: "Oh no."

Maxa: "And he or she left apples, grapes, incredible almonds. We can't nibble on any of this while we clean up?

Rivera: "All that is going to the trash."

Maxa: "All those chocolate truffles in the trash? There are like two, four, six, eight, like 20 handmade truffles here."

Rivera: "Yeah."

Maxa: "Sonya, this is a tragedy!"
Sonya quickly got me over that tragedy because we had to get to work. We began by heading down the hall to the linen closet to exchange the dirty linens for clean ones.
Maxa: "O.K., so the linen goes here in this back hallway in a big container. So somebody else comes and takes it downstairs, you don't have to do that?"

Rivera: "No."

Maxa: "And now we go into the linen room. So you're getting all the towels, the bathmats, hand towels, everything you need for a double room."

Rivera: "Yeah, all the supplies is here."
We carried everything we needed back to the room, which I really kind of felt was beckoning me...
Maxa: "You put on the TV, Sonya, relax, let me make this bed. Have a truffle."

Rivera: "We are not supposed to watching TV."

Maxa: "Oh, we're not supposed to watch TV?"

Rivera: "No, only radio if you want it, but no TV."

Maxa: "Why not?"

Rivera: "Because we won't finish the room if we watch TV.

Maxa: "It's too distracting. Now, I've been in hotel rooms where the housekeeper always has the TV on."

Rivera: "Oh no, not me."

Maxa: "Not Sonya. Now you'll show me how to do one of those fancy hotel corners, won't you?"

Rivera: "Yeah, hospital corner?"

Maxa: "O.K., hang on, so first I do straight under from the side. And then what? Then like this? Oh, that's easy."
The making of the bed involved checking, applying, and smoothing each piece of linen including the bottom sheet, the top sheet, the very unwieldy duvet cover. All four pillowcases had to be carefully folded in at the ends and each pillow fluffed to perfection. As I was finishing up, Sonya explained to me the importance of checking each room thoroughly for forgotten items. If, as a guest, you leave something behind, the Four Seasons will contact you immediately. But if you don't claim the item within six months, it goes to the housekeeper who found it. What a great policy!
Maxa: "Sonya, let's look around this room to see if this guy forgot anything. We haven't checked under the bed. Maybe he left a laptop computer? Do you look under the bed always?"

Rivera: "Yes, because sometimes magazines."

Maxa: "Like dirty magazines? I've heard that. This guy's a pretty boring guy. He didn't leave anything. There are no dirty magazines under the bed. How many guests these days leave a couple of dollars for the housekeepers?"

Rivera: "Uh, I have 14 rooms. Sometimes two or three rooms, they're leaving five dollars, 10 dollars. It depends on the guest, you know?"

Maxa: "How long have you been cleaning rooms?"

Rivera: "About seven years."

Maxa: "And are there more people leaving tips for housekeepers than seven years ago?"

Rivera: "Yes."

Maxa: "It seems to be a growing trend, doesn't it."
That's something to remember, folks. A tip left on the pillow for the housekeeper never goes unappreciated. After all, if done well, it's a pretty labor-intensive job, as I was quickly learning.
Maxa: "Now what do we do?"

Rivera: "Now we go into the bathroom."

Maxa: "The bathroom, O.K."

Rivera: "This is the soap."

Maxa: "This is the spray soap for the bathtub, so you don't have to get down on your knees With a sponge."

Rivera: "Yeah we have to."

Maxa: "Oh, you do."

Rivera: "We have to spray first."

Maxa: "Did you spray the walls, too? I didn't see."

Rivera: "Yeah."
Sonya proceeded to show me how to scrub every inch of the bathtub, plus all of its surrounding walls, how to clean the shower curtain, shine the chrome fixtures, wipe down the door for fingerprints. Then she cleaned the toilet, inside and out, then moved on to the sink and counter.
Maxa: "Do you always put the bottles in the same order?"

Rivera: "Yeah, the same way every day."

Maxa: "Conditioner back right, shampoo front right. Shower gel front left, body lotion back left. Make corners. Fold the Kleenex into corners. Do you fold the toilet paper into corners too?"

Rivera: "Yes, mmhmm."

Maxa: "I love this stuff."
When we'd finished the bathroom, the straightening of the main room, the refilling of the stationery supplies, the cleaning of the refrigerator, the setting of the clock alarm to 12 noon and making sure it was on the classical music station after the dusting, and finally the vacuuming, we gave the signal that the room was ready for inspection, star 93 on the phone. A hotel supervisor inspects every room after it's been cleaned. We then awaited our judge, Doug Larose, from the morning meeting.
Maxa: "This would probably be the supervisor. You're the inspector?"

Larose: "I am. Are you ready Rudy?"

Maxa: "Yeah, this room's pretty clean."
O.K., I was feeling a little cocky since Sonya and I had worked so hard on the room, but Doug pretty quickly unnerved me. He produced a pristine white cloth that he proceeded to run over everything we had touched.
Larose: "The toilet is our biggest enemy here. I'm looking underneath the lip of the toilet."

Maxa: "For disgusting things?"

Larose: "Exactly. The toilet paper looks nice. I'm looking for any make-up, eyelashes, hairs, etc."
Doug checked every surface of the bathroom, as well as the main room. He checked to see that all the lightbulbs worked, that the seams of the lamp shades faced the walls, that the clock radio alarm was indeed set to noon, that the stationery was refilled, the minibar stocked. I thought I was really doing well given the extraordinary level of detail that was being examined. But then it happened.
Larose: "Now Rudy, you've got a bottle top underneath your armoire and a receipt."

Maxa: "Oh no, uh oh, that was a big mistake."

Larose: "Yeah, that may cost you a little."

Maxa: "I don't want to think what that means. I don't want to think about that!"
Despite that one little oversight, everything else met with Doug's approval.
Larose: "Rudy you did a great job, I'm just going to check your pillows here to make sure the creases inside look very nice. I see that you fluffed it. It looks very inviting Rudy."

Maxa: "Thank you, thank you, cause I have about 11 more rooms to go and I'm ready to lay down on one of these beds!"
I was fascinated to see just how much work goes into each hotel room every single day. It definitely gave me new perspective as a hotel guest, both in what I can and should expect from a good hotel and in how I can help the staff. So next time you find yourself at a hotel, remember, the staff is there to be helpful to you. They may provide amenities you're not aware of, newspapers, toiletry items you may have forgotten, special room services. But also remember, there are small things you can do to help them because, as you now know, it's not an easy job.