Cultural Enrichment
by Sara Lewis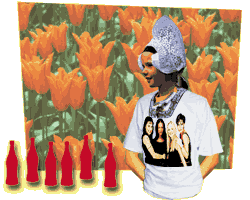 Dear Rudy,
Every other summer, we take our children to the Netherlands to visit my husband's family. We hear that it's highly enriching for children to visit other countries. But I'm not sure foreign travel has done much to broaden our children's world view.
Last year, we visited their second cousins, girls around our 10 year old, Caroline's age. To give my daughter a cultural comparison, I asked the girls about school, scouting, and the games they like to play. I translated their answers. Caroline nudged and poked me until I asked what she was really wanting to know -- where could she buy a Spice Girls T-shirt? The Spice Girls were a repeating theme. For instance, Caroline was not happy with her accommodation. Sure, the house we borrowed was on a picturesque canal near the center of her dad's hometown, built in the middle ages. But the Dutch girl's room Caroline stayed in was decorated with pictures of Leonardo DiCaprio and the Backstreet Boys. Caroline hardly slept, she said, because there wasn't a single Spice Girls poster.
We visited my husband's great uncle Chris, who told family stories. "What would the children like to drink?" asked my husband's great aunt. "We don't have soda, but we have juice." I translated. My son Paul, who was seven, wanted to know, "Why don't they have soda?" Meanwhile, Paul's great, great uncle was telling the story of his day-long walk at the end of World War II from s'Hertogenbosch to Eindhoven to see his then girlfriend, now his wife. He had to walk because, due to war devastation, there were no trains or buses running. There was no gas for cars. Suddenly, American soldiers dropped right out of the sky in parachutes. When he spoke English to them, they hired him as a translator. I summarized this dramatic tale for my children. My son had a question, "Why don't they have soda?"
We went to Gouda, where every week there's an old-fashioned cheese market. When we arrived a little late, I was disappointed that the children had missed seeing people in native costumes. But Caroline didn't mind. She found an entire stall devoted to Spice Girls paraphernalia. She bought a cup and a T-shirt. Now the trip was worthwhile for her. Months later, my son had to write a family story for school. I reminded him that he heard a good one in Holland. "You know," I said, "from your great-great uncle, the man who met the American paratroopers." Paul looked blank. "We visited them at their house," I said. A light went on. "Oh! I remember," he said. I was relieved. Great Great Uncle Chris had made an impression, after all. Paul said, "You mean the people who didn't have any soda!"
Talk to you soon.
Sara