We're visiting the People's Republic of China. If you don't have a burning desire to go the world's most populous country, this may fire you up. If you've been itching to, the sounds we've brought back might make booking that tour irresistible.
Sounds of China
by Rudy Maxa
Announcement: "Northwest would like to welcome you to Beijing, China. The correct time here in Beijing is 6:40. We ask that all passengers..."
Flying direct to Beijing! Pretty rare just 20 years ago. Now it's an everyday experience for thousands of Americans. Well, not quite everyday. Because going to China is still a major undertaking. Halfway around the world, often it takes 24 hours of get from home to hotel. But you end up in a land that's a wonderful combination of ancient and modern.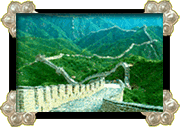 In Shanghai, for example, you can now see ancient jade carvings in the state-of-the-art Shanghai Museum. Meanwhile, the countryside still clings to those ancient terraced rice fields on the hillsides. And the old and new in China keeps the traveler guessing: This is a lovely, modern hotel, but can I drink the water? Do I haggle over prices in a glass-and-chrome department store? This jet goes to Guilin, but do I need some kind of official pass to get in?
Indeed. China takes some know-how, planning, and money. But oh, is it worth it! Not just for the vital cities, and sites like the Great Wall, and the Terra Cotta Warriors in Xian, but for the quiet surprises that always come your way when you're away from home...
....like the traveling orchestra that happens to be performing as you stroll through the Yuyuan Gardens in Shanghai...
....or the underground river ride in the newly discovered caves in Hunan province...
....or the mountain peak, where you fall for a traditional love song, performed by one of the many ethnic minorities -- like the Tujia people.
Of course, on your trip to China you might want to eat a duck in Beijing, maybe even drop in at the Hard Rock Cafe to meet a new breed of young Chinese.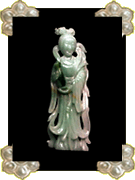 Rudy: Savvy Traveler reporter Marty Goldensohn, is with us now. Marty, welcome home. And what was China like for you?
Marty: Wonderful, and surprisingly warm and friendly. I was expecting the diffidence I often get from Chinese waiters in New York. They must learn that here! Anyway, it's fascinating and often beautiful -- but also China is the world's largest construction site. There's so much building going on. High rises. hotels, museums, highways. Five thousand years of history meets wild commercial growth.
Rudy: Do you see old and new colliding in the countryside too?.
Marty: Yes, sometimes literally. For example, I'm driving in central Hunan Province in a national forest area called Jhangjiajai where they've finished a web of modern highways so you can get to the different peaks and caves and lakes. Great roads. Even guardrails. But, turns out, it's always a treacherous drive because the farmers -- they spread their rice over the road to make you drive over it and break open the kernels. And worse, when the rice is drying there, they put big rocks around, forcing you into the oncoming lane. Old and new often collide in the countryside.
Rudy: Marty, how can a traveler ever decide where to go in China? It's such a big country.
Marty: Well, suppose friends from Paris told you they were coming to the States for the first time and wanted advice on what to see? What would you tell them?
Rudy: Personally, I'd tell them not to miss the Empire State, the Golden Gate and the Grand Canyon.
Marty: Same kinda thing. First trip to China. Gotta hit the high spots. The Forbidden City. Shanghai, the Great Wall, the Terracotta Warriors in Xian, a Yangtze River cruise.
But of course these sites are hundreds of miles apart. So time, money, and your particular passions for architecture, or history or nature will determine your priorities. I would advise: buy a guide like the Lonely Planet, or Fodor's Exploring China, get brochures at your travel agent's, and decide what you can't do without. Your sine qua nons.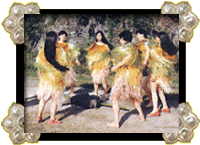 Rudy: Where are the pun police when we need them! You'll need a visa?
Marty: Yes. But it's no big deal. Available at your nearest Chinese consulate. If you're taking a tour, they'll handle it for you.
Rudy: The classic question: can you drink the water?
Marty: No. Not from the tap. I actually bumped into some U.S. water engineers and they were appalled at the water quality standards. But hotels have bottled water. Often supplied free right in the room.
Rudy: Vaccinations?
Marty: None required when last I looked. But check with your doctor. They get updates on this. This time of year I'd definitely do a flu shot. But China's a pretty healthy place in general, if you're on the beaten path.
Rudy: What about the money? They had two kinds, one for foreigners, one for Chinese.
Marty: Done away with. Just buy some yuan. The exchange rate varies very little from place to place. So get them just about anywhere. Like your hotel. Yuan you spend like dollars, but you can buy 'em like quarters, so you feel pretty rich in China. And hotels and many restaurants take credit cards just like everywhere else in the world.
Rudy: Do the Chinese like Americans?
Marty: Sure. You'd never know we bombed their Belgrade embassy.
Rudy: Thanks, Marty.