Finally, on our visit to China, Marty Goldensohn sends us this postcard from Shanghai.
The Story of Shanghai Jazz
by Marty Goldensohn
Dear Rudy,
I'm writing to recommend a place to drink beer and dance to old tunes in Shanghai. The Peace Hotel. But I want to warn you against it, too.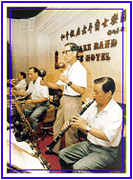 You see, the jazz band's a little ragged. Average age of the musicians: about 75. Seventy-five and rusty, because from 1957 to 79, jazz was banned in China, as "decadent."
You won't hear much in the way of improvisation or syncopation because the drummer, Mr. Chin, and a few others in the group, are not quite jazz musicians
Chin: "We are retired from Shanghai Opera. Retired."
Yes, retired members of the Shanghai Opera Orchestra. Shriveled men, blowing with awkward abandon on ancient instruments. But you see, Rudy, it doesn't matter that it's actually anemic lounge music. This is place has history. This is the Art Deco bar of the Old Cathay Hotel, renamed the Peace Hotel. Dark, cavernous, small wooden dance floor. Hearing these guys muddle through Moon River is like walking into Rick's Place in Casablanca.
This opulent hotel was built in 1930 by Victor Sassoon, from Baghdad. Had to do something with his opium fortune. So this was his palace, in a city dazed by opium dens, brothels, gambling joints and gangs. From his windows upstairs, Sassoon could see the nearly 2000 other buildings that the owned in Shanghai. And in those days, this was the place to stay. Noel Coward wrote Private Lives in the Cathay.
So now it's a tourist trap. But one you happily fall into.
Woman: "We are from New Zealand.

Marty: "Is this your first time in Shanghai?"

Woman: "First time. And we knew they danced in Shanghai."

Marty: "When did you learn to dance like this? Did you always dance like this?"

Man: "We never learned. We just picked it up."
The Old Jazz Band is aging but crafty. They play "New York, New York" for the Americans, "Waltzing Mathilda" for the Aussies, oompah for the Germans. Sometimes a happy drinker will get a little disoriented.
Man: "Do you have any idea where they went with my wife?"

Marty: "To the bar. The bar."

Man: "The bar?"
Yes there is a bar at this bar and his wife was there. So come to the Peace Hotel, Rudy. In its own odd touristy way, it's authentic. And you might want to do it soon, before it's too late.
Yours truly,
Marty Goldensohn