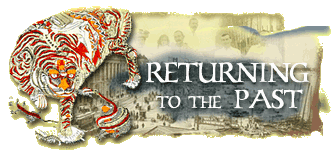 More than a few Westerners visit China to trace family histories to see where parents or grandparents lived as missionaries or as refugees.
Returning to the Past
by Marty Goldensohn
Brooks Kelly and his wife Anne are tired but happy. Just hiked down the Great Wall on a sunny fall afternoon. And yesterday, they discovered a fragment of family history they were looking for.
Anne: "We're on vacation...but we're also here to honor my husband's grandfather who was a medical missionary here for 50 years. And yesterday we found a church in Beijing that he conducted his services."

Brooks: "He came here to China in September of 1899, settled in Hunan Province, but he arrived just in time for Boxer Rebellion so had to go back to more civilized areas of China for about a year and a half.

Marty: "What was the work of a medical missionary? What was China like then, and what was he trying to do?"

Brooks: "It was very primitive. He was certainly spreading gospel, but a more practical teaching. As a medical doctor he tried to teach them the very basics of washing hands at appropriate times...things like that."

Marty: "Was he assigned here, or did he come over here because he felt the calling himself?"

Brooks: "Well, he felt calling and Cumberland Division of Presbyterians assigned him to Hunan Province."

Marty: "Grandmother, did she protest?"

Brooks: "No; she was a missionary from Northern Ireland. And they met in Shanghai."

Anne: "She was buried here in the foreign cemetery."

Brooks: "He died in 1957."

Marty: "Were you able to find the cemetery?"

Brooks: "No, the cemetery has been destroyed, and they built a worker stadium on top of it. I hope he got a box seat after all the years he spent here!"
Brooks Kelly, gratified to find out a little more about his grandfather.
Andrew: "This is what I wanted to do when I came here...walk down this street. This used to be called Little Vienna. This used to be the main shopping for the Jewish refugees.
Andrew Compart, from Washington, D.C., is also on a kind of mission. He's in Shanghai to see where his Dad was forced to spend 1939 to 47 as a refugee from Nazi Germany.
More than 20,000 Jews came to live in Shanghai, many in a section which, even today, resembles Manhattan's Lower East Side. Two and three story tenements, sidewalks festooned with dresses, underwear, toys, and luggage for sale.
Andrew: "And you can see looking left and right, these buildings, probably nothing done to them. Little stands like these, they had all these pretty much like when my father was here. I just walk down this lane and soak in all I can, and try to imagine what it was like for him to walk down this street."
In 1943, the Jews of Shanghai were herded into a ghetto by the Japanese invaders, but not killed. Many died from the poor conditions. And some were befriended by people like Fa Liang Wang, now 80 and a guide in a small museum that stands at the site of the old Hongkou Synagogue.
Fa Liang Wang: "We Chinese couldn't help them. We were always in poor condition, oppressed by the Japanese."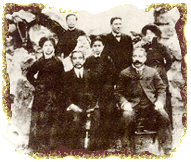 Modesty. He did help and, says Wang, the few wealthy Jews, who'd gotten rich in Shanghai generations earlier, contributed food and medicine. Andrew's father, a teenager then, had to fend for himself, working as a kind of day-trader in cigarettes.
Andrew: "He had bike and would ride from store to store. And you could buy cigarettes there and sell them at another store for a higher price. So he had too wheel and deal all day long; he would do that all day."
Andrew says his Dad was proud of his years in China. A middle-class kid from Germany who learned to survive on the back streets of Shanghai. He died two years ago.
Andrew has a yellowing picture of his Dad. It shows him perched on the roof ledge of the Broadway Mansions Hotel, Shanghai far below. Andrew's decided to take a picture of himself in the same spot, to give his Mom.
Andrew: "Actually, I am holding it in my hands right now. This is from a 1947 photo. You can see him straddling the top of this. It don't think I can straddle it. My father was braver than me."
Savvy Resources:
Shanghai.com
Many historical photos and general information on Shanghai.
http://www.sh.com