African Heritage Tour
An Interview with Jon Haggins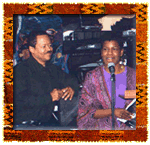 Did you know that the country of Morocco freed its slaves less than 50 years ago? That a gap between the front teeth in a sign of great beauty in Ghana? That the African diaspora took slaves as far from home as Fiji? You would if African heritage tour leader Jon Haggins were your guide in those countries. That's because Jon is an acknowledged African heritage travel expert who's been leading tours to Africa, South America and the Caribbean for the past 20 years. You can also travel with him on his television program called "Travel Tips with Jon Haggins," which can be seen weekly on channel 57 in New York City. When Jon stopped by our studios, I asked him how he defines an African Heritage Tour.
And here's something that seems interesting -- Carnival Cruises now offers what it calls its "Black Literary Authors Cruise Konnection." Last September was the maiden voyage to Bermuda, a four-night trip featuring ten black authors as well as lectures and social events. Last year featured writers like R.M Johnson, Eric Jerome Dickey, Victoria Christopher Murray and a few others. This year's cruise is scheduled to sail August 12-17. You can find out more by going to www.blackcruise.com.