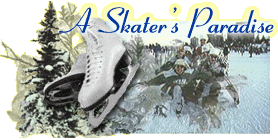 My staff in L.A. cracks me up whenever they complain about the weather...they get cranky when the mercury drops below 70! For the rest of us in the real world, winter is cold, slippery and it seems to go on forever. Some people hibernate. But others, like visitors to Ottawa, Ontario, try to make the best of it. As the Great Lakes Radio Consortium's Karen Kelly found, Ottawa is home to the longest skating rink in the world.
A Skater's Paradise
by Karen Kelly
It's an early winter morning in Ottawa. Skaters are beginning to make their way down a long stretch of gleaming ice. It's described as a local treasure. It's also know as one of the best places to skate in the world.
The Rideau Canal begins near Carleton University, near the outskirts of the city. From there, it winds more than four miles through residential neighborhoods. Skaters pass by parks and bridges. As they turn the last corner, they see the parliament buildings up ahead. Steve Scarf drove 30 miles to get here this morning. He says once you've skated on the Rideau Canal, there's no going back to a rink.
Scarf: "It's just such a beautiful feeling to be able to just glide on your skates so long and so far with nothing in your way. It's the freedom I guess, and to travel such distance using your legs and feet so quickly, it's really amazing."
The canal attracts all types. You see toddlers wearing snow suits and bike helmets. They spend a lot of their time sitting on the ice eating snow. Then there are the couples. They move together, skating arm in arm. And there are plenty of tourists. Visitors have easy access to hotels and restaurants near the canal. The largest number come for the Winterlude Festival in February. Hundreds of thousands of people jam the ice to admire ice sculptures and eat beaver tails -- that's fried dough with cinnamon and sugar.
Ottawa resident Bob McBurnee has been skating on the canal for almost 30 years.
McBurnee: "When you have a clear blue sky and a fresh fallen snow from the night before, it's winter's beauty at it's best. We've skated here with our children and that's where you see the real joy of it because the kids really love it and you can see it in their faces and it's a great way to tire the kids out for the day too, as well."
People have been skating on the canal for years. It's usually frozen from January to March. But in 1971, the Canadian government made it official. They started sweeping and flooding the ice every night. And they put in staircases to provide easy access to the canal. A national landmark was born. Now, it's estimated that one million people skate here each winter. John Taylor is a history professor at Carleton University.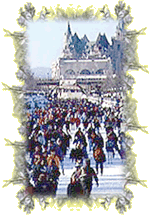 Taylor: "Immediately, it became one of the most important things in the life of many Ottawans and many of my colleagues who live along the canal skate into work. They use it for commuting. And you see kids in the hallways with skates slung over their shoulders."
Now, a whole generation has grown up with the canal. Kids hang out there after school. And couples go there on a first date. They even feel safe leaving their boots and backpacks under public benches. Skater Ken Bruff says the canal is a reflection of the way Canadians approach winter.
Bruff: "You really have to embrace winter if you live in Canada, especially a city like Ottawa. If you squirrel away through the winter, it really becomes unbearable."
In any given winter, there are weddings and hockey games and picnics on the Rideau Canal.
Most say they couldn't imagine winter without it. Maybe that's because so much of their lives takes place right on top of it.
In Ottawa, I'm Karen Kelly for The Savvy Traveler.
Savvy Resources for Skating in Ottawa: