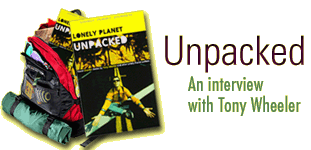 The Lonely Planet Unpacked
An Interview with Tony Wheeler
The first Lonely Planet guide book came out in 1973. It was called Across Asia on the Cheap, written by Tony and Maureen Wheeler and assembled on their kitchen table. Today, Lonely Planet publishes more than 350 titles and the production side of things has changed. But the method for gathering information is the same. Each year scads of Lonely Planet writers hit the road to report on the travel scene all over the world. The out-takes -- the stories that didn't make it into the guides, danger, disaster, all the good stuff -- are the subject of a new Lonely Planet book called Unpacked. It's a collection of short stories that may leave you wondering if travel writers are eligible for battle pay. When Tony stopped by recently, we asked him what inspired this book.