Doug Lansky, our Vagabond Traveler, hangs out with some primates in Uganda. What do you have to brag about when you have an encounter with a sleeping gorilla?
Gorillas Sleeping in the Mist
by Doug Lansky
Dear Rudy,
Remember Diane Fossey? She penned the book Gorillas in the Mist, which was made into a movie, which, in accordance with standard Hollywood operating procedure, drifted as far as possible from the actual information in the book. Despite this, it still left me with enough desire to see the gorillas for myself.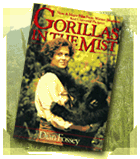 In this region of political turmoil, believe it or not, Uganda was my best option for viewing the gorillas. After a rebel attack claimed eight tourists this spring, the normally year-long waiting list had plenty of openings.
I had met a number of people who had done this. There seemed to be two basic types: the touchy-feely, crystal-wearing herbalists who want to bond with the gorillas, and the Indiana Jones wannabes who pray the gorillas will charge at them so they'll have a good story to bring home. I wasn't sure which category I fell into, but that didn't stop me from spending over $400 for the various permits and fees. I began my trek in the Bwindi Impenetrable Forest with my tour group of five Israelis. We had two armed soldiers with us, two trackers, and our guide, William.
You never know how long it'll take to see a gorilla, or if you'll see one at all. Our exhausting trek through the jungle lasted just over an hour, and consisted mainly of William pointing out collections of gorilla dung along the way. Which, for some reason, the Israelis thought was a great photo op.
Then, finally, success. William put his finger to his lips to quiet us down, then pushed back a branch. We were five yards from a female gorilla about half the size of Chewbacca. In the small, hillside clearing behind her, I could make out about 10 others laying around, including the dominant male silverback.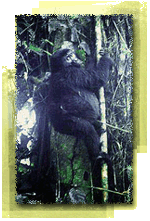 We didn't know quite what to do with our excitement, so, in accordance with international tourist procedure, we started snapping photos like mad.
After we exhusted our cameras, we settled in and took a good look. We really wanted to study the primates we had traveled so far and spent so much to see. But the excitement began to wear off when we realized all we were observing was gorillas having their midday siesta.
It was nothing like the movie. There were no mountain gorillas jumping around, beating their chests, climbing trees, exchanging witty jokes with Signourney Weaver. All we could make out were gorillas sleeping, belching, and audibly passing gorilla gas -- sort of the primate version of the Bundy family.
William explained that they always try to time it this way. When the gorillas are resting, he said, you can see them more easily and everyone gets a good picture.
As I walked back, I felt priviledged for my intimate encounter, but the budget traveler in me wondered if my money would have been better spent at a zoo. One of the Israelis was beaming. His grin looked almost painful. The rest were quiet, trying to figure out what kind of story they would be able to tell when they got back home. Maybe they can say we made it out of there just in time -- the silverback would have charged us...if he ever woke up.
Rudy, I'll talk to you soon.
Doug
Savvy Resources for Gorilla Tracking:
The Dian Fossey Gorilla Fund
Works internationally to save the mountain gorillas from extinction and ensure the local people benefit from their unique natural heritage. You can even "adopt" a gorilla.
http://www.dianfossey.org/.
Gorillas Online
Comprehensive gorilla site on the Internet covering a wide variety of information and original photographs of gorillas from zoos and the wild. Find out about the natural history, genetics, behavior, and latest population estimates of the three gorilla subspecies.
http://www.selu.com/~bio/gorilla/.
Official Uganda Tourism Site
Detailed travel information for both Uganda and mountain gorilla tracking tours.
http://www.visituganda.com/.