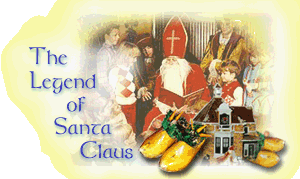 At this time of the year, for millions of children, Santa Claus is the most important person in the world. Anyone who climbs into Santa's boots is therefore facing a pretty tough challenge. The Savvy Traveler's Martin Stott fancied the job, so we sent him off to learn the ropes. And since it was the Dutch who brought the Santa story here to America, what better place than Amsterdam?
The Legend of Santa Claus
by Martin Stott
I was told if I wanted to find Santa I should come here -- it's a sports center on the outskirts of Amsterdam, temporary headquarters of the Dutch Santa Claus Foundation. They were right! Everywhere I turn there are men gluing huge white beards onto their faces and pulling on red gowns and large ecclesiastical hats. They don't look like my idea of Santa...more like bishops. Gradually, I find out why.
Man: "Santa Claus in the three or four [sic] century helped poor children. He was first a bishop and helped the sick and poor children. That's why he has become Saint Nicholas."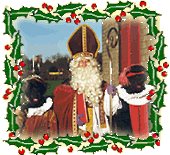 St. Nicholas, the 4th century Bishop of Myra in Turkey, was quite a character it seems. Legend has it that when he was born he stood up and said thanks to God for a safe arrival -- precocious, eh? Apparently in later life he brought three children back from the dead after they'd been cut up by a local butcher. Back in the fourth century they loved this sort of stuff, especially the Dutch. The story lines became ever more ridiculous...he'd jump on his horse and ride across the rooftops with his helpers delivering presents down chimneys. An edge of menace was added.
Woman: "The original Santa Claus, he had a black helper and he was called Black Peter and the idea was that he had a sack and if the children had been very bad they would be put in the sack and taken away."
This explains why mixing in with all these Dutch Santas are characters with sooty faces and black curly wigs. Black Pete is supposed to Santa's African slave. It's not very politically correct. Throughout the morning Santas and Black Petes stream out of the building to cheers and song
As part of my training, Chief Santa Henry van der Krone takes me on his rounds. With his booming voice, flowing beard and bishop's miter Henry's frankly a bit scary, but the kids love him.
I watch Henry for tips. Everywhere he goes he's welcomed with singing.
After visiting about 20 homes we finally get back to headquarters and it's time to see if I can look the part. I'm brought a costume. First, a frilly smock...
Woman: "It's like a long white dress. It's got long sleeves on it, with a lot of lace on the sleeves and on the bottom."
Then the bishop's cape and purple gloves and finally...
Woman: "Here's the beard."

[Martin puts on beard]

Woman: "Oh, my goodness, he's very frightening!"

Martin: "Oh, it does tickle, doesn't it? [Laughter] I can't talk with this thing on!"

Woman: "And it gets hotter."

Martin: "And it smells a bit, too!"

Woman: "And he's got the wig on now!"

Martin: "I can hardly see what I'm doing now!"

Woman: "He's got white curls now..."

Martin: "Do I look any different?"

Woman: "You look amazing!" [Laughter]
Afterwards, I asked Henry how I looked.
Henry: "I must tell you I was complete confusing [sic]. My goodness, who's coming here? You look fantastic. I was really impressed. I say next time you have to do the role of St. Nicholas."
So now you know what I'll be doing next Christmas. All I've got to do in the meantime is learn to speak Dutch! And there I should end but I've got a confession to make. You see I came here looking for more than just Santa.
When I was a schoolboy I heard the most amazing stories about Amsterdam's red light district and how the prostitutes paraded their wares in shop windows. Now to an oversexed spotty teenager this sounded like Christmas. I vowed on the plane to check the story out. But wandering 'round Amsterdam I'd put the matter to the back of my mind. I was soaking up the atmosphere recording nice sounds...like this Santa Claus and his dancing band of Black Petes.
[Band plays]
Then strolling from canal to canal I found this old church with wonderful chimes. For 10 minutes I stood listening, entranced...
[Chimes]
....when, out of the corner of my eye, I noticed in a brightly lit door window opposite this woman jiggling around in just her undies! I turned and suddenly realized these half-naked women were everywhere. The stories were true. I was shocked. It wasn't even tea-time. It wasn't very titillating. A bit of an anti-climax actually. Let's just say the anticipation was better than the reality. But then Christmas can be like that can't it!
From Amsterdam, this is Martin Stott, Santa in training, for The Savvy Traveler.
Savvy Resources:
Get the train from Skipol Airport; it's the quickest and cheapest way into the center.

If you're going off season then you can book accommodation when you arrive through a couple of agencies on the main road leading out of the station, the Damrak. They'll get you rooms for that night at up to 50 percent off. In high season Amsterdam has a shortage of accommodation so this may not be an advisable idea then.

I tried using the Time Out guide to Amsterdam but eventually gave up on it and went to the expense of buying, while I was over there, the Lonely Planet guide. It was one of the best LP guides I've used, and I've used quite a lot over the years. Good tips on cheap eating places and easy to understand maps.

Finally, avoid taxis in Amsterdam; they're the most expensive in Europe. And try and get to the Van Gogh museum...it's wonderful.

Amsterdam Hotspots
http://www.amsterdamhotspots.nl/core.html
Your guide to all the local favorites.

Amsterdam -- The Channels
http://www.channels.nl/
The Channels offers a virtual tour on Amsterdam with hundreds of images and links to all Amsterdam has to offer.

Amsterdam Tourism
http://www.go-amsterdam.org/