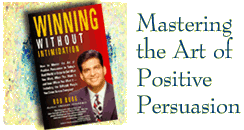 Mastering the Art of Positive Persuasion
An Interview with Bob Burg
We all know that, when you treat people the way you want to be treated, you usually fare better. But sometimes it's hard to embrace that philosophy when things go wrong -- especially when someone else is to blame -- like when you get bumped from a flight because the plane's been oversold. Or you have to stay in a room that reeks of tobacco even though you reserved a smoke-free room.
To teach us how to make the most of a bad situation we've got Bob Burg. He's the author of the book Winning Without Intimidation: How to Master the Art of Positive Persuasion. You may remember that Bob was on the show last week offering advice on how to get an upgrade -- he's going to give a little recap today. But first he talks about how to best way deal with a situation when you're traveling and something goes wrong. He advises us on the right approach to take when you've got someone in front of you who can help you fix your problem.