I've found some of my greatest discoveries only after I stepped off my itinerary and went searching for the unknown. That's also what Joan Reinhardt Reiss and her husband did recently when they set out to find the heart of Ireland, by bicycle. They wanted to get close to the people and experience the culture first hand. What they found was a country much different than what they expected.
Cycling through Fairyland
by Joan Reinhardt Reiss
Announcer: "Ladies and gentlemen, you're very welcome to Shannon. For your own comfort and safety and especially for your safety, please remain in your seats."
I was excited as the plane landed. We had chosen the beautiful southwest region of Ireland for our two-week trip. Through an Irish travel group, we rented bikes and arranged for daily luggage transportation to our bed and breakfast inns. This allowed us to travel on our own through towns with names that sounded like fairy places: Tra-lee, Killarney, Dingle, and Skibbareen.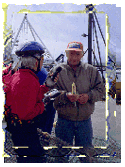 As we travel through the towns traditional Irish music emanates from the pubs and the shops. The further we are from major cities, the more traditional the music. The town of Dingle looks like a charming New England fishing village. After centuries, commercial fishing is still the major industry, followed by tourism. Shops and inns line the main street and colorful houses dot the hillside above. Out on the docks we met John Brosnan, a fourth generation fisherman. I'd put him in his early 50s. His hands are callused, his face craggy. He expertly mends his nets while talking with us. I ask if a fisherman can still make a decent living as he tells us about the catch which seems to decrease each year.
Brosnan: "If you work hard, yeah. Lots of hours. It's a tough job, though."
I'd never spoken to a fisherman before. I wondered how John felt about all the visitors and the changes to his town.
Brosnan: "A lot of tourists, and I guess we're changing as well...keeping guests and things like that, ya know. It's good for the town, it's good. Ha, Ha! If the old people were around today -- heh, heh, they'd die if they see Dingle. Thirty years ago, 40 years ago it was a small quiet town and today it's thriving with tourism.
Cycling in a foreign country, we like to talk with other cyclists when we stop for sightseeing or a pub visit. The natives were easy to recognize; they never wear helmets. Our most unique encounter was with an Australian Steve Seal and his Japanese partner Emmi Sakkaguchi. For the past ten years they've cycled around the world. I asked Steve what he liked best about Ireland.
Seal: "You can stop at the side of the road and speak to just about anyone whether they're a hill farmer or a fellow that coming out of the pub."

Reiss: "Can you understand them?

Seal: "Not always, not always." [Laughter]
Ahead of us now was Healy Pass which connected two counties Kerry and Cork. The pass was steep and my legs and lungs were straining. It was worth it! Exquisite flowers lined the road...rhodedendron, foxglove, daisies, clover and thick ferns. Sheep bleated plaintively as we passed.
As we climbed ever higher the sheep became tiny dots. Small lakes appeared with a few perfect white houses. Birds followed us as we summited. Down the other side we zoomed, around hairpin turns and into a barren, dirt landscape. Then the scenery changed to rugged coast and the weather did likewise. It was gray, chilly, and rainy as we approached a lovely seaside town, Glandore, nestled behind a small breakwater. At lunch we met an 81-year-old native. Honoria wrapped her Irish brogue around a Jonathan Swift poem: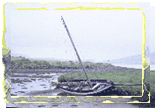 Though I have forsaken long,
Fairylands and truefull songs,
Though my lips forget to tell,
The thoughts they once could utter well,
The scenes like those that rise before
The enchanting scenes of sweet Glandore

This Irish cycle trip had many surprises. I expected an overdeveloped countryside with huge pockets of poverty. None of that was true. I learned that a pub was "social center" and restaurant where even a vegetarian could manage. I was surprised by all the traditional music. What a pleasure to be in Europe and not be surrounded by American pop tunes. But the glorious countryside was equally matched by a warm and friendly people.
From Ireland, this is Joan Reinhardt Reiss saying Slawn Lat -- goodbye -- for The Savvy Traveler.