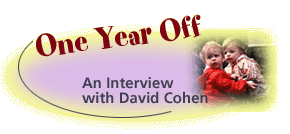 One Year Off
An Interview with David Cohen
Imagine this: Your spouse walks through the door one evening and says, "Hey, forget putting the kids in school this year. Let's pack up the family and travel around the world instead!"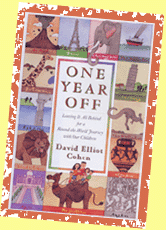 Maybe this would reawaken some of the old wanderlust in you and, for a couple of minutes, you might even fantasize about the possibilities. But then reality would probably set in and you'd think, "My boss would never give me a leave of absence", "How can I keep the kids out of school for that long?", and "How can we possibly afford it?" Chances are, you'd tell your spouse that he or she was nuts. "Too hard," you'd say, "Way too hard."
But author David Cohen says he did it, and an experience like this is worth any hassle, and not the financial drain you might think. He wrote about his family's year-long odyssey in his book One Year Off: Leaving It All Behind for a Round-the-World Journey with Our Children. David told me what inspired him to throw caution to the wind, and take this dream journey.