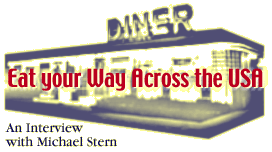 Eat your Way Across the USA
An Interview with Michael Stern
Do you have a favorite diner or cafe that you go out of the way to visit when you take a weekend road trip? A friendly place where the food's great and the conversation is easy? I'm partial to one on the Eastern Shore. It's called the Harris Crab House. Whenever I'm near, I stop in for hardshell crabs.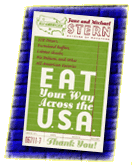 My pick must be a good one if Jane and Michael Stern include it in their book called Eat your Way Across the USA. They've spent the last 25 years sampling the fare at roadside eateries across the country. When they began their mission they thought they'd be documenting the end of American cuisine. That was in the days of Velveeta, Thousand Island dressing and chicken fried steak.
Michael was able to stop by recently, so I asked him if roadside food has improved since they began their quest.