Sunny days, moderate rain and cool nights...that's the best end-of-summer recipe for a colorful display of autumn foliage. Yet this summer's withering drought has raised concerns that the upcoming foliage season may be shorter or less dramatic than many would hope. The Savvy Traveler's Tom Verde checked it out for us.
New England Leaf Peeping
by Tom Verde
There are few sights in nature as spectacular as New England's autumn leaves: a fiery medley of pumpkin orange, school house red and buttery yellow, spread across the landscape like a Persian carpet.
Yet the leaves of some trees in the region have bypassed this step and are already brown, brittle and ready to fall.

Smith: "The shallow-rooted species, they feel it first because they don't have the ability to get down into the deep soil and suck the water out down deep."
Don Smith is chief forester for the state of Connecticut.
Smith: "Red maple, that will have a problem, and certainly the black birch and gray birch and paper birch, all of the birches have relatively shallow roots; they'll brown off."
Smith says that the drought is a primary factor in what may be an earlier-than-normal fall foliage season this year here at Sleeping Giant State Park in Hamden, Connecticut, as well as in other forests throughout the state.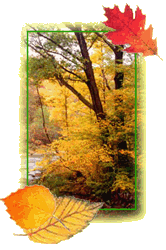 Smith: "The drought doesn't provide the tree the kind of moisture it needs; it's not able to transport the nutrients that it needs from the roots to the leaves and the foods that are produced back down to the roots, so the tree senses it's in trouble and it starts to shut down."
That's when chlorophyll, the green pigment that helps the tree absorb sunlight and produce food, begins to break down, revealing the brilliant reds, purples, oranges and yellows that are the leaves' true colors. Smith and other forestry experts throughout New England say that while some trees may suffer from the drought, the overall landscape appears healthy and on its way to producing at least average if not excellent fall foliage this season. That's good news for tourist business in New England, where the leaf season's economic impact is an estimated $8 billion. Up in Vermont, probably the most popular destination for fall foliage pilgrims, or "leaf-peepers" as they're called, many local inn keepers say they're too occupied with getting ready for their busiest season of the year to be worried about what drought may or may not do to the foliage. Linda Anelli runs the Deer Hill Inn in West Dover, Vermont.
Anelli: "Have the inn-keepers talked? Sure, we've all seen the less-than-positive press everywhere, from locally to The New York Times. Do we take it seriously? No, because we see this year after year after year, so it's almost becomes a joke and it's not a serious impact on any of our business because we're all booked already, so we're filled anyway."
Anelli says that pundits' predictions about the leaves, which, she points out, have turned without fail every autumn since she moved to Vermont thirty years ago, are about as reliable as the theories passed around the cracker barrel by old timers...theories sometimes as colorful as the foliage itself.
Anelli: "There's lots of them, funny things from taking too much maple sap out in the springtime during sugaring season...if you see the wooly bears, the pretty multi-colored caterpillars too soon or they're too high in the trees, that means it's gonna get cold sooner and that may have an impact."
In the final analysis, it may not be lack of rain but too much of it that may prove troublesome to this years fall foliage. With many weeks left in this year's hurricane season, the remnants of any number of tropical storm systems could dump heavy rain in New England's forests, making this season's autumn leaves as fleeting as, well, autumn leaves.
In Hartford, Connecticut, I'm Tom Verde for the Savvy Traveler
The following links will lead you to foliage hotlines and updates for the various New England states as well as other parts of the country.