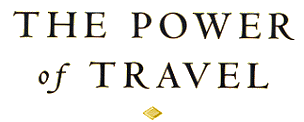 The Power of Travel
An Interview with Steve Zikman

What compels us to travel? It seems that many of us can't get the wanderlust out of our blood, all the while complaining that we're overworked and overbooked. Yet, when the opportunity arises, we pack our bags, contend with the inconvenience of planes, trains and automobiles for a chance to see more of the world. Steve Zikman understands that power of travel. Matter of fact, that's the name of his book. It's a collection of thoughts about travel's wondrous possibilities.
You see, at one time, Steve was a high-powered attorney in Canada. And then one day he decided to throw success to the wind and hit the road for three years! So we asked Steve what travel gave him that his life as an attorney didn't.