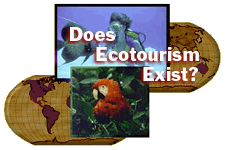 Does Ecotourism Exist?
An Interview with Martha Honey
If you're a concerned traveler, you probably find ecotourism an attractive alternative to a pre-packaged tour. But did you know that ecotourism, in many instances, is not as kind to the environment as you might think?
Martha Honey is the director of the Peace and Security Program at the Institute for Policy Studies in Washington, D.C. She investigates this segment of the tourist industry in her book called Ecotourism and Sustainable Development: Who Owns Paradise? Ecotourism has gotten a lot of attention lately, with many critics asking if it really exists. We asked what ecotourism is, in her opinion, and how it differs from standard tourism.