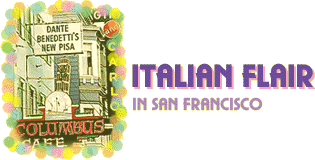 You know, you can even feel like an alien in a place you've lived for years. The Savvy Traveler's Joan Reinhardt Reiss lives in San Francisco, a city where, Mikhail Gorbachev once declared, the residents should pay a special tax for living in such beauty. Joan moved to San Francisco a decade ago, but recently she worried she was becoming complacent about her dream city, so she decided to go on a journey of rediscovery. She began by finding out what tourists like about San Francisco, starting atop windy Twin Peaks, the highest point in the city.
North Beach, San Francisco
by Joan Reinhardt Reiss
Ten years ago my husband Mark and I moved to our dream city--San Francisco. Living here has put us minutes away from music, restaurants, ethnic neighborhoods, and a delicious urban life. But recently I've worried that I was becoming complacent about this beautiful city. So I decided to rediscover my hometown and turned to tourists to see what draws them to my city. I found a variety of answers atop windy Twin Peaks, the highest point in the city.
Greek: "I like this place here, the Twin Peaks, Nob Hill, and I was impressed with the Victorian houses."
Swiss: "I like this town because cable car and nice bridges and the Alcatraz. It's a nice town, yes!"
Egyptian: "I like to come to San Francisco - it's close to the European styles."
But it was the answer of a local escorting friends that really piqued my interest.
Local: "North Beach is my favorite neighborhood! The food, just the environment, the old cafes that have been there forever and the old families--it's such a wonderful feeling and you always feel welcome."

Now I know North Beach the way a tourist does. This Italian neighborhood on the Bay Bridge side of the city is bounded by the Transamerica Pyramid, Chinatown, and famed Telegraph Hill. For me, North Beach means a great Italian meal, fine cappuccino and some tacky night life. So to get to know North Beach intimately, I needed a guide. Chatting with a couple of local historians led me to Alessandro Baccari, curator and founder of the North Beach Museum, former college dean and a third generation North Beach Italian.
For the Italians, California had special meaning. It's very much like Italy: climate, opportunities...making a living off the sea or making a living off the land.
In 1848, California had 15,000 residents. Two years later, with gold fever raging, the state population had soared to 165,000 people. Horrific voyages brought foreigners from abroad. Early on, the dominant immigrant populations were from Mexico, China, and Ireland. Yet, by the 1890s, 20 percent of the state population was Italian. With cheap lodging and proximity to the piers, North Beach was an immigrant hub. Alessandro recalls with enormous delight the words of his great-uncle who said...
Baccari: "It took me seven years to get here--from New York to here--to find the promised land, and I absolutely love California. It is beautiful."
Alessandro points with pride to some famous North Beach sons: Ghirardelli and his chocolate business, and Amadeo Giannini, whose little Banco D'Italia morphed into the Bank of America. I'm amazed to learn that a struggling immigrant started such a huge financial institution just a few neighborhoods away from mine.
In addition to businessmen, musicians and artists came to North Beach. As we walk along, Alessandro goes in search of Peter Macchiarino, an internationally renowned jewelry designer and a 50-year resident.
Macchiarino: "I am now about to be 90 years old and I'm still working. I take orders..and these are some of my awards"
I can't believe Peter Macchiarino's wall of awards and shelves of exquisite abstract sculptures. His hands are steady as he talks and works.
An even more famous older artist is the 80-year-old Beatnik poet, Lawrence Ferlinghetti, founder of San Francisco's most famous bookstore -- City Lights in North Beach. Today, this elder beat poet enjoys the title of Poet Laureate of San Francisco, which Ferlinghetti views as a major advantage:
Ferlinghetti: "Who's going to print something that a poet walking down the street in North Beach has to say? But if you have a title like Poet Laureate then it's possible to get in the mass media."

Alessandro Baccari is proud that Ferlinghetti came from the East Coast to live among his own Italian people. Of course, in North Beach nothing goes better with poetry and books then coffee.
As a major caffeine addict, I love walking in North Beach, where a coffee house is only a few steps away. I delight in hearing the coffee being ground but the best is the great aroma that lingers in the air. Sipping a double cappuccino here I'm transported to Italy [sigh]. In the 50s. Alessandro recited poetry in the coffee houses, so he has his favorite.
Alessandro: "Café Trieste I love because I love the family. The Triesteens are from Yugoslavia; they're more Italian than Italian and they love to sing."
I can't believe this. Café Trieste has squeezed a five-piece band into the room and the owner sings away. But it's time to walk again and learn about one of North Beach's most adored sons -- Joe DiMaggio. We visit Dante Benedetti, a retired baseball coach.
Baccari: "Let's go say hello." [Door opens] Dante!

Benedetti: "Al Baccari, how are you?"

Bacarri: "Pretty good."
Dante is hanging out at his New Pisa restaurant, so we have a chance to talk with him about his pal, the great DiMaggio.
Benedetti: "A lot of people think he was stuck-up but he wasn't -- he just wasn't a hand-shaker. But he was one of the most natural ball players I've ever known, all natural ability."
Joe DiMaggio was married in the heart of North Beach in the grand cathedral of St. Peter and St. Paul. I was stunned to learn that the bride was not Marilyn Monroe, but DiMaggio's first wife, Dorothy Arnold. Weddings in this century-old church didn't stop with DiMaggio. Today St. Peter-St. Paul is still the religious center of the neighborhood.

So this North Beach adventure has showed me the real Italian life: old family loyalties, Italian and Chinese cultures interwoven at the neighborhood boundaries, sweet smells of garlic and coffee and most of all the proud Italian residents. The tacky night clubs that dominated my old tourist-style impressions are unimportant compared with the real North Beach where I now walk slowly, open my senses, and talk with people. I understand why the Italians never left this neighborhood. Arrivederci!

From San Francisco, I'm Joan Reinhardt Reiss for The Savvy Traveler.