The Return of an Expatriate
An Interview with Bill Bryson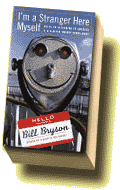 We've all experienced culture shock. It usually happens when we visit other countries. But for American Bill Bryson, author of the New York Times bestseller, A Walk in the Woods, culture shock hit him right here at home, after having lived in England for two decades. He writes about it in his latest book, I'm a Stranger Here Myself.
Now, Bill is actually from Des Moines and has been living in New Hampshire for the past three years, so we asked Bill if he's exaggerating when he says he feels like a stranger here in his native country.