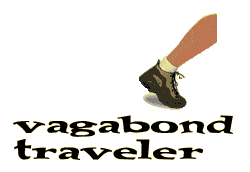 Vagabond Traveler
Interview with Doug Lansky

For most of us, "traveling" means spending a few days on the road for business, or if we're lucky, for pleasure. And maybe we take a couple of weeks each year for vacation.

But not our "Vagabond Traveler" Doug Lansky. For him, traveling is a lifestyle, and a job. In fact, Doug's been on the road for seven years now. You may have heard him here on "The Savvy Traveler" reporting on his experiences as a reindeer herder in Sweden, a gondolier in Venice, a valet at a hotel made of pure ice....getting pelted with tomotoes during Spain's tomatina festival.
Doug just put together a book about these and other adventures called Up the Amazon Without a Paddle.
In one of his rare appearances on this continent, Doug stopped by our Los Angeles office to talk about the Vagabond life. Tune in to find out what Doug's dumbest or most outrageous adventure was.