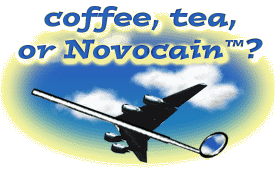 One of the good things about being an air courier is that you're literally forced to travel with only a carry-on, so you don't have to waste time hanging around the airport waiting for all of your bags. Not that it's all that bad, being stuck at an airport these days. Now there are bookstores, cyber-centers, Bodyshops, play areas for kids... But while airport commerce has diversified, The Savvy Traveler's Wesley Weissberg has noticed one service at New York's Kennedy Airport that has her puzzled.
Coffee, Tea, or Novocain™?
by Wesley Weissberg

Here's a sound you're used to hearing at the airport...
[Sound of a jet]
A little of this...
[Announcer sounds]
But what about this?
[Drill]
I'm not talking Black & Decker and the new billion-dollar renovation at Kennedy, I'm talking about the small drill that fits all too intimately in your back molar.
There's a dentist at Kennedy Airport, and there's been one here since the place opened at Idlewild in 1948.
Is there something I don't know? Some connection between dentistry and flying, other than the obvious--top six fears on some Family Feud list of things people are afraid of? Wouldn't a day spa with shiatsu massage and seaweed wraps make a lot more sense?
As you approach the international terminal you see the signs, right up there with KLM and Lufthansa--a tooth and those two familiar tools, the mirror on a stick and the long picky thing.
The signs lead past ticketing and duty free to a rear corridor of offices: Robert Trager, D.D.S. Trager bought the practice 15 years ago. Why has there always been a dentist at the airport? Nobody seems to have any idea. The office sits at the end of the runway. Through big glass windows you can watch the big jets sidle up to the gates below. It's a spectacular view.
Who exactly are his patients?
Trager: "We have thousands of people traveling through and these people, don't forget, have dental problems like anyone else. They can chip or crack a tooth, they have dentures that can break, they have abscess I've had airlines call right from flight, 'we have a passenger in pain, in pain.We'll be landing from Los Angeles at 2:15. Can you be there at three o'clock?' And the airlines love it."
Typically on three to four hour lay overs I think about services that should be at the airport. My list includes movie theaters, one-hour photo and manicurists. But for some travelers, well...
Trager: "I get a lot of people who will travel from Europe or Asia and come by and make regular appointments because for them it's convenient. Instead of sitting around drinking and smoking they can come by the office and have their teeth cleaned. And the most difficult are the people from India because they chew on the beetle nut and the beetle nut makes your teeth completely black you can't even see them."
And for those who'd finally conquered their fear of flying, here's a wrinkle:
Trager: "When you fly and you have a bad tooth, if it's open you can get what you call airodontalgia, where the air pressure when you go higher is so much less the gasses can expand. So if you have a bad tooth and it's opened or not sealed you really can get a terrible terrible pain or a tooth ache."
In truth, it's not all oyster pearls chipping teeth in first class and glamourous calls from the cockpit. Thirty seven thousand people work at Kennedy -- an island unto itself -- and a lot of them like to get their teeth cleaned on their lunch hour like the rest of us.
And then there's another kind of dentistry that nobody could have expected when they put this office in the international terminal in 1948 right above Customs: Forensic Dentistry. Two years ago a law went into effect that differentiated between those under and over 18 caught entering the country illegally. So if customs doesn't like your papers, if they suspect the picture on your passport isn't you, and you say you are 16, you get brought to Doctor Trager's office for the controversial practice of x-raying your third molar and wrist bone to determine your age.
Trager: "I see a lot of people from Afghanistan, India, Bangladesh, that part of the world. I see a lot of people from South America. We've had alleged terrorists trying to sneak into the country with forged passports, I've had drug dealers."
So the next time you fly out of Kennedy, remember to arrive at least an hour before take off, don't let anyone else handle your luggage after you've packed it, and stay off the beetle nut. At the very least, if you have a lay over, make sure you've flossed.
From the departure lounge, I'm Wesley Weissberg for The Savvy Traveler.
Interested in having your dental checkup while you wait it out at the airport?
Robert Trager, D.D.S.
Kennedy International Airport
Terminal 4 (International Terminal)
Room 2311
718-656-4747

Ask the Dentist: A Dental FAQ
http://www.drharris.com/askden.htm