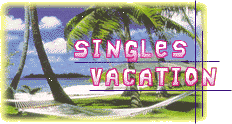 Club Med is not a club. It's fifty so-called villages sprinkled along the equator. Club Med is what's known as an all-inclusive club. Meals, lodging, entertainment, are all taken care of up front. In fact, no money is used. For incidental expenses, drinks at the bar, postcards and extra sun screen, you use booklets of Club Med money, little red, blue and green coupons that you buy at the front desk.

The villages are categorized into three groups. Family villages for parents and their little ones, adult villages with no one under 18 admitted, and everybody villages presumably for single parents who couldn't find a sitter for the week. Most villages hold roughly 600 visitors at a time. It's not for everybody, especially not reporter Alex Blumberg. We sent him, against his wishes, to check out the singles scene at an adult village on the Pacific Coast of Mexico, Playa Blanca. He discovered that famous African proverb's Club Med corollary: It takes a village to act like a child.
Singles Vacation
by Alex Blumberg

DAY ONE
On the three-hour bus ride from Puerta Vallarta, they showed the movie Turbulence. Ray Liotta plays a serial killer who hijacks a malfunctioning airplane in an electrical storm. I couldn't help drawing parallels to my own imminent situation thrown together with people I didn't know, cut off from the outside world, at the mercy of psychotics.
It's what most people call an awesome singles vacation.
Moussa: "My name is Moussa, I am 33, I am the manager and the chief of the village; it is the same."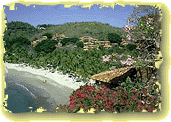 Moussa is the first sight you see getting off the bus at Club Med. Beyond him, palm trees sway on a white beach. Tanned and bikini'd sunbathers order drinks from cantinas with thatched roofs. A several-tiered pool, surrounded by deck chairs, sparkles in the sun. Bungalow lodgings rise into the semi-tropical hillsides to either side. It looks exactly like you'd expect it to. Even Moussa. He wears creased clothes and a perpetual tan. He carries his eyebrows constantly aloft...it's an expression that says all at once: 1) I am so suave, 2) nonetheless I am aware of the irony in knowing I am suave and, 3) but admit it, am I not suave? He reminded me of Prince in the way that you couldn't fail to notice his buns.
Moussa is one of many reminders that Club Med is a French invention. This heritage helps explain some of the more confusing aspects of the place. Like why everyone keeps referring to me as the general manager:
Moussa: "The guest are the GM, GM like gentle members."
Staff aren't staff either. They're GOs which must translate literally as fashion model. Almost all the GOs, men and women, are stunning to look at. Aside from GO and GM, there was one other phrase I kept hearing that also carried the whiff of poorly translated French: "crazy sign."
Moussa: "And what exactly is crazy sign. Ooh la la, you know the crazy sign it's some dance with some movement together, uh it's crazy sign, we say in French, le signe demansiel, signe foo foo...that sounds a lot longer...no it's the same...because we are sometimes crazy, and the people is gonna be crazy also during the vacation.
Got it? The only thing Moussa's explanation taught me was that French people actually say "ooh la la." That night, though, I see for myself what exactly is "crazy sign."
The scene is the open amphitheater next to the pool. About 60 GOs, half women, half men, all beautiful, do a simple line dance on the stage. On a cordless mike, the alpha GO, Gils, calls out directions in three languages. Below him, perhaps 100 GMs struggle to follow. The crowd is equal parts men and women, young and old. The two doctors I ate dinner with boogie down next to the bald gentlemen in the white pants and Hawaiian shirts. The entire spectacle is at the same time horrifying and enticing, like a live band at a wedding reception. This is "crazy signs," and they happen every night after dinner.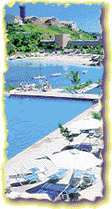 Back on the dance floor, the song "YMCA" by the Village People is booming. The crowd is a frenzy of capital letters. At least the Americans are. The French Canadians and Europeans don't understand they're supposed to be forming the letters with their bodies. They just flail. Either that or they're trying to spell YH'I. There's a bunch of people standing on the perimeter tapping their toes. I find I'm one of them, but I'm too embarrassed to actually join in. I decide to head to bed.
GO: "Sir, yes sir, that's kinda weak lets try it again, beep, sir, yes sir."
DAY TWO
It's noon. A deserted sand beach. We're off-club. We came here this morning by bus, about a twenty minute trip. I'm at what's called the singles picnic, an event Moussa assured me would be very crazy. Fifty to sixty GMs stand in a circle in the sand. We hold plastic cocktail cups. In the middle of the circle is a 40-gallon garbage can of sangria. Seven or eight GOs continuously dip into it to refresh our drinks. The ringleader is a GO named Scott, the self-described resident alcoholic. He's in charge of the day's festivities, which are shaping up to be something akin to a hazing ritual. We're the pledges. Scott is the senior.
Scott: "She was talking while I was talking, therefore she gets a drinking penalty. On your knees."

Any way you can imbibe sangria we imbibe it. We chug it, we have it poured down our throats, we lick it off each other's stomachs, all beneath a blazing tropical sun. Many of us carry a few extra pounds, quite a few of us range in color from pink to red. By the end of the afternoon, I'm predicting half our numbers gone to heat stroke, the other to cardiac arrest. But, as if reading my mind, Scott offers a safety announcement.
Scott: "Repeat after me: NO MATTER..."

Crowd: "No matter..."

Scott: "HOW DRUNK..."

Crowd: "How drunk..."

Scott: "NO MATTER..."

Crowd: "No matter..."

Scott: "HOW STUPID..."

Crowd: "How stupid..."

Scott: "NO MATTER..."

Crowd: "No matter..."

Scott: "HOW HORNY..."

Crowd: "How horny..."

Scott: "I GET, I WILL NOT LEAVE THIS PICNIC SPOT."

Crowd: "I will not leave this picnic spot."

Scott: "And we drink."
DAY THREE
Yesterday's debauchery has left me flustered. I decide to lay low, hang out by the pool. I strike up a conversation with a woman in her mid-fifties I'll call Karen.
Since becoming single nine years ago, Karen has been coming to the adult Club Meds with her two grown sons. She points across the pool to a tan man, late 20's with movie star good looks. He's the only son with her this trip and she worries that things aren't going as well as he'd like.
Karen: "He's just not, I guess, scoring like he did with his brother. Scoring, means...to have a great time, doing the games the sports you know, and having a wonderful time, that's all."

Alex: "Scoring means to have a great time?"

Karen: "Yes, go get him will you please?"

Karen's son: "It's a different kind of trip, we don't talk about, um, I mean my mom is here, she's just broken up with her boyfriend. She meets guys, you know, I think, and guys want to talk to her, and I meet girls, etc. and at 10 we have breakfast, the conversation kinda stops: 'Okay did you have fun last night, okay, good.'"

Alex: "Is it hard to imagine your sons scoring?"

Karen: "No, no I try not to think about the scoring. I think about meeting them sometimes for breakfast or dinner. Actually I don't meet 'em for breakfast 'cause their breath reeks from alcohol."

Karen's son: "But at the same time, she helps me out a lot, you know, girls love hanging out with her and she's good for, you know, I came with my mom, girls love hearing that, so you know what, it may sound cheesy, but I came with my mom and I've got laid more times than anybody by saying that."

Karen: "By the way, we do have separate rooms."
DAY FOUR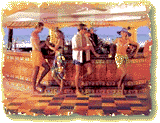 Using your mom to, you know, meet girls, is unusual even for Club Med. Most people I talk to engage in more wholesome activities.
And just in case you can't wait until dinner for your crazy signs, there's a little mid-afternoon teaser every day. There's almost no way you can be idle. Even lying by the pool, you still have to fend off the relentlessly enthusiastic GOs who come around periodically recruiting for various group activities...ping-pong tournaments, kayak races and talent shows.
Initially, I bristled at having my activities "coordinated." But by this point in the week, the me that mocked ping-pong tournaments seems like a dream. The new me is ping-pong tournament bronze medalist. Club Med is becoming my entire world, and I'm losing the will to resist. Why would would I? Everyone here seems so...happy.
DAY FIVE
Of course the cheerfulness might stem from more than just the archery.
I think everybody comes down here, looking for a little sexual activity. I don't have any official statistics. But I talked to a lot of people, and most of them had some kind of romantic encounter. Me? Well, I tried. (You know, for the assignment!) Didn't go so well.
Carol: "Tell me your name"

Alex: "My name's Alex."

Carol: "How is your vacation? Meet a lot of pretty girls?"
This is Carol. To understand Carol, you have to understand, in Club Med world, everybody actually becomes a new person. I, by virtue of my microphone, had achieved the status of a minor celebrity...the Club Med equivalent of, I don't know, Rudy Maxa. Carol was Cindy Crawford. Do you think she's flirting?
Alex: "Are you gonna wear your bathing suit? Speedo, sexy. Oh, oh, I don't know why all the girls have to wear bathing suits. That's a good question."
That's a good question?! It gets worse.
Carol: "It's your last night?"

Alex: "Yeah."

Carol: "What time you leave tomorrow?

Alex: "Oh, no, it's not my last night, I leave Saturday."
Smooth, huh? Maybe, if I worked for the Howard Stern show, I'd be handling this better. You can take the boy out of public radio, but you can't take public radio out of the boy.
The thing is, despite my failure as a playboy, I like my new life. I like dancing to crazy signs. But there's still a small part of me, a part from before, that watches itself water aerobicize with embarrassment. I thought you had more self-respect than this, it clucks, I'm not mad, just disappointed.
DAY SIX
I'm watching people put their foreheads on baseball bats, spin around them 10 times and try and run in a straight line down the beach. I'm watching the Club Med Olympics. And I'm sitting next to Waverly Rennie, a public health consultant, and her husband Dan Perlman, a senior executive in a computer startup. They came to Club Med for six days and brought seven books.
As we watch the events before us, Dan flips through one of them, a thick history of the French Revolution by Simon Schama. Turns out you can bring a suitcase full of books and still gush about Club Med. Your gushing just takes the form of a sociology dissertation.
Waverly: "Given the way our society works, which is so removed from what I think, biologically, we need, we have to find a substitute for authentic connections. Everyone who comes here has signed up to be part of a bonhomie of some kind."
Waverly's words were exactly what I'd been needing to hear. Dancing to crazy signs, I'm not embarrassing myself in a vulgar display of cruise ship kitsch, I'm satisfying my biological needs in a stress relieving interaction with a bonhomie. I'm finally able to justify my enjoyment of Club Med. Just in time for my vacation to end, as only a Club Med vacation can.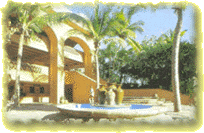 The last night. I find myself with the rest of the bonhomie at the evening show. We're watching GOs in period clothing lip sync an abridged version of Grease. Very abridged. It skips basically from "Summer Lovin" right to "We Go Together."
It is, I realize, the perfect metaphor for the club. There's not much time. Circumstances have to be manipulated to get people together more quickly.
After the show, Moussa, who'd been playing the Frankie Valli role, comes out. He's radiant in his tight sequined pants, long shaggy wig and aviator sunglasses. Do you want to do some crazy signs, he shouts. The entire village it seems is jammed in the theater, 400 people on their feet, doing the locomotion.
Tomorrow new bodies off fresh charters will inhabit our deck chairs. The GOs with whom we'd walked along the beach at night, about whom we'll have fond memories for the rest of our lives, will be chatting up the new arrivals. And we'll be breathing coach class air on our way back to Mexico City and Montreal and Brooklyn. But tonight, none of that matters. Tonight is still during the vacation, and the people is still crazy.
Check out Club Med on the web at www.clubmed.com.
For more info about Playa Blanca, visit honeymoon-vacation.com.